The Odds on Johnny Depp as The Riddler and Other Comic Book Casting Rumors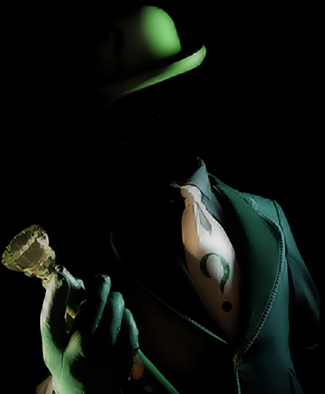 Nick Nadel's Tuesday column examines the increasingly busy intersection between comic books and the movies.
With Britney cleaning up her act, the media has turned to comic book movies for gossip and innuendo. And although many projects are still in the script stage, casting rumors abound (Cher as Catwoman?). So why not a round of armchair casting director? Here's a look at the odds on the latest batch of rumors, plus a few my own picks. Feel free to leave your ideas — crazy or legit — in the comments section. Who knows, maybe some of the crazier ones will get picked up as news…
Johnny Depp as The Riddler
Rumors of Depp as Edward Nygma reached a fever pitch after Michael Caine dropped some none too subtle hints.
(Warner Bros. likely wants to muzzle Caine right about now.) Though
nothing is official yet, every indication suggests that Warners wants a
big star (and a respected actor) to compete with Heath Ledger's
powerhouse performance. Depp certainly fits the bill, though I fear a
reprise of his Willy Wonka caricature. Still, anything is an
improvement over Jim Carrey prancing around in his question mark
bodysuit.
Odds: High
My Pick: Guy Pearce, who has expressed interest in reteaming with Christopher Nolan for a Bat-flick.
Crazy Pick: The Riddler is a bookish genius, so I nominate NY Times crossword guru Will Shortz. Imagine the brain teasers Shortz would dream up!
Philip Seymour Hoffman as The Penguin
As I've previously discussed,
Hoffman is perfect, and could finally lend gravity to an
under-appreciated Bat-villain. (His Penguin certainly wouldn't drool
black goo.) Sadly, the actor debunked the
long-circulating rumor at the Toronto Film Fest, saying he'd rather see
another actor in the role. (You almost have to feel sorry for the guy:
Need a trollish baddie? Call Hoffman!) Hopefully Hoffman will come
around, but for now this rumor seems dead.
Odds: Nil
My Pick: Barring Hoffman, I would lobby for fellow character actors Pruitt Taylor Vince ( Vacancy ) or Vincent D'Onofrio.
Crazy Pick: There's something about The Daily Show correspondent (and "PC guy") John Hodgman that just screams Penguin.
Cher as Catwoman
Holy WTF, Batman! You've probably heard this
one, which has been making the rounds for several weeks. Though it may
have been the work of some crazed Cher fan, rumor has it Nolan wants to
portray Selina Kyle as an aging femme fatale. If that's true, we could
do a lot worse than Cher — she did win an Oscar.
Odds: Moderate
My Pick:
If Nolan's going the "cougar" route, how about the infamous Sean Young?
How ironic would that be after all these years? Better yet, bring back
Michelle Pfeiffer.
Crazy Pick: Gotta go with Cher. If only Sonny was still around to play The Mad Hatter…
Will Smith as Captain America
The nature of this rumor is a bit suspect: While promoting Miracle at St. Anna,
actor Derek Luke let slip that he'd heard that Smith had been offered
the part. The mere possibility of the biggest actor on the planet
playing Captain America was enough for major media outlets to run with
the story. Vague or not, there could be some truth to the buzz: Smith
probably gets offered every major role in Hollywood, so the offer
likely came across his agent's desk at some point. Then there's the
fact that Marvel introduced an African-American Cap in The Truth series.
Lastly, Smith's appeal would go a long way towards selling a
second-tier Marvel character, both domestically and overseas. For now
though, it's all speculation.
Odds: Slim, but rising
My Pick: Marvel's likely to go young and cast an actor they can lock into a franchise, so I'll throw Ryan Gosling's name into the ring.
Crazy Pick: Fact: When Chuck Norris was offered the Captain America role, they had to change his name to Captain Universe.
When not writing, Nick
Nadel is in line at the comic book store alongside the other geeks, er,
fans of speculative fiction. His most prized possession is a 1960s
Batman comic wherein
the Dynamic Duo are trapped inside a fortune cookie factory. He lives
in Brooklyn and updates his aptly named website (nicknadel.com) with comedy writing and videos.
Read More