Rosario Dawson and Stephen Colbert Resurface as Comic Book Heroes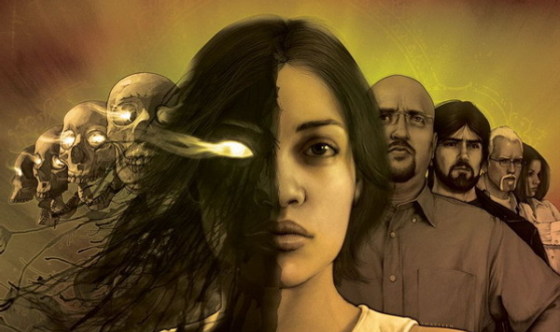 Nick Nadel's Tuesday column examines the increasingly busy intersection between comic books and the movies.
With comic books enjoying current hipster cache, it's no wonder that a great many celebs have come out as fans. And it's even less wonder that those same celebrities are dipping their toes into the industry, creating and often writing their own comics. Behind-the-scenes folks like Joss Whedon and Kevin Smith have long dabbled in comics (Whedon's Astonishing X-Men is required reading for anyone with a passing interest), but with so much media attention focused on the genre, it was only a matter of time before press-hungry stars came running.
In the old days, celeb-driven comics were cheap cash-ins aimed squarely at the kids (Chuck Norris Karate Kommandos, to name just one horrifying example). But these days, celebs are not only contributing to the creation of the books, they're also lending their likenesses to the lead characters. (The better to help sell the movie rights.) Here's a look at a few recent celebrity brand extensions into the comic book world plus their likelihood of making it to the big screen.
Rosario Dawson's Occult Crimes Task Force
It's
tough to hate Rosario Dawson. She's a likable star and a comic book geek whose uncle is artist Gus
Vasquez (The Armory Wars). Still, it would be easier to applaud her foray into comics if she'd come up with an interesting concept: Dawson's stand-in Sophia Ortiz investigates supernatural crime with an elite police squad. Sounds better suited for a mediocre CBS crime series than a comic book. That said, we hope she'll get to star. (It's currently being developed by Dimension Films.) Likelihood? 50/50.
Virgin Comics
Hoping
to be the Marvel (or at least the Image) of celeb comics, Virgin Comics launched in 2006 hoping to craft projects around A-list talent and cofounder Deepak Chopra. Since then, the enterprise has released comic
books for everyone from Guy Ritchie (Gamekeeper) to Jenna Jameson (Shadow Hunter). Even fanboy Nicolas Cage got into the act with Voodoo Child, created with his son Wes. Few of the A-listers actually write the books; those duties are handed over to seasoned talent like Andy Diggle and Mike Carey.
Many series are in various stages of big screen development, but with the recent closing of their New York office, prospects aren't looking good. As for that Jenna
Jameson superhero movie, well, she always has her day job. Movie likelihood? Slim.
Milo Ventimiglia's Rest
Given Heroes popularity (and the fact that he works with industry vets Jeph Loeb and Tim Sale), Milo Ventimiglia naturally dabbles in comics. Sadly, Ventimiglia's
tween fanbase will be disappointed when they pick up Rest, only to discover that the star has a mere passing involvement in its creation. (Writing duties are handled by Mark Powers.) The lead character slightly resembles the actor (the art's so bland its hard to tell). Will teenage girls petition for the movie version? Likelihood? Possible but not probable.
Red Menace
Wildstorm's Red Menace series has an intriguing premise: Superheroes meet the House Un-American Activities trials of the 1950s. It's also got the strongest artwork of any celeb-driven comic. It helps that writers Danny Bilson and Paul De Meo (of the Flash comics and TV series) have joined forces with respected artist Jerry Ordway. Even better, cocreator Adam Brody (The O.C.), doesn't insist on being drawn into every scene. Since Brody's connection to Danny dates back to his dating daughter Rachel Bilson, its unclear whether this professional relationship is also kaput. Will we see Red Menace transfer to the big screen? Likelihood? Quickly fading.
Stephen Colbert's Tek Jansen
An extension of the hilarious Colbert Report, Stephen Colbert's absurd scifi character received his own comic
book series in 2007. The WGA strike delayed the release of subsequent issues, but happily the book is back on track. Whether it's a good comic or not is moot. That it actually exists is funny enough. With an animated series also under his belt, the next logical step for Colbert's character is a feature film. Nothing is in the works yet, but if Colbert can get a new species of spider
(among many other things) named after him, he can likely motivate the
Nation to get Jansen on the big screen. After all, Colbert does have Captain America's shield. Likelihood? Let's hope so, fellow heroes, for the good of America.
When not writing, Nick
Nadel is in line at the comic book store alongside the other geek fans of speculative fiction. His most prized possession is a 1960s Batman comic wherein the Dynamic Duo are trapped inside a fortune cookie factory. He lives in Brooklyn and updates his aptly named website (nicknadel.com) with comedy writing and videos.
Read More