R-Rated Warnings – Don't Babysit (1978), Don't Sleep (1988), Don't Mix Pop Rocks and Soda (1998)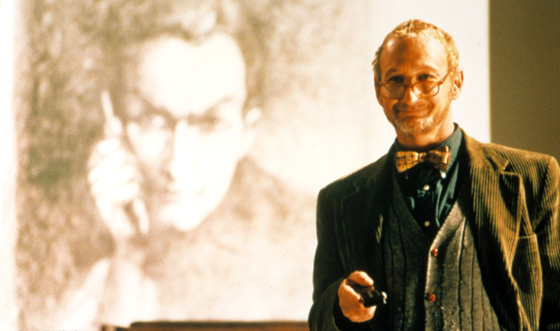 Novelist Scott Sigler's horror column appears every Thursday.
Welcome to Horror History class. Now put away your texting thingamajiggies, log out of Facebook, sit down and shut the hell up! It's time for some knowledge.
Here at AMCtv.com, we treasure the history of horror film. Treasure, I tell you, enough to educate you on the haps of the past thirty years. This week's column kicks off an irregular feature of mine, the history of horror thirty, twenty and ten years ago. Since I'm not really feeling up to creating a clever slogan for such an illuminative dissertation, therefore, dear column, I shall dub thee "Horror 30/20/10."
Readers, commence to learnin' …
Thirty Years Ago
What more can you say about 1978 besides "Halloween?"
Well, actually, you can say a lot more because '78 was a banner year in
the world of horror films — Dawn of the Dead and Piranha also came out that year — but for now, let's focus on this John
Carpenter classic. Halloween launched the movie career of scream queen Jamie Lee Curtis, and permanently embedded Michael Myers into the American culture.
This
movie continues to hold up after thirty years. It's a little hokey in
parts, granted, but the score, the acting and the directing still have
you screaming at the TV when you know damn well Michael is going to get
up. A coat hanger? Come on, Jamie Lee, you really think that's enough
to keep that Shatner-masked monster down?
Released in October 1978 and shot for just $325,000, Halloween
grossed $47 million at the US box office — the equivalent of $148
million in 2007 dollars after you adjust for inflation. The movie also
spawned eight sequels, including the 2007 remake by Rob Zombie. Grand
box office total? Around $328 million worldwide. That success set the
stage for another iconic killer that would see his own Box Office God
status cemented ten years later…
Twenty Years Ago

Nightmare on Elm Street IV: The Dream Master
kicked the tar out of Hollywood, finishing up a four-week run at number
one that started on its release date of August 19, 1988. Whereas Halloween came out of the gate as a monster smash hit that the successive sequels could never match, 1984's Nightmare on Elm Street was more of a slow burn. Each of the first four movies in this franchise grossed more than the one before it, ultimately peaking with IV's $50 million US box office take.
If
you saw this back in the day, it probably scared the crap out of you.
You were afraid to go to sleep, and when you did, odds were Freddy
showed up, and that really threw you for a loop because you just didn't
know if it was real or fake anymore. OK, that could have been me and
some bad pizza, but, still, rather frightening. Watch it now and it's a
schlock fest of special effects and cheesy music. Freddy himself,
however, continues to stand strong as one of the all-time great horror characters.
Played by the legendary Robert Englund, Freddy was already a mainstay of American pop culture before IV spent a month as the the number one movie in the country. His celebrity grew so big, a decade after IV someone got the bright idea of using Englund as a red herring in another movie…
Ten Years Ago
Opening on September 25, 1998, Urban Legend
was a surprise hit. Produced for $14 million, the movie went on to
gross $38 million domestically and $72 million worldwide. The flick
ramped up advance hype with a killer premise: A slasher that takes
people out based on, well, urban legends, such as "Never flash your
brights on a lonely road at night," or the classic "Aren't you glad you
didn't turn on the lights?" In the movie, of course, all the urban
legends are true and the body count piles up.
By far the coolest element of the movie was casting Englund as
Professor William Wexler. Wexler is the literature teacher who gets the
ball rolling with his class on urban legends. Painting Wexler as the
killer has to be one of the best red-herrings of all time. I mean come
on, who would ever suspect the guy who played Freddy Kreuger as a
killer?
Although it pulled in a sweet box-office haul, the movie isn't
great. Rebecca "The Noxema Girl" Gayheart kicked off an unsuccessful
run not as a scream queen, but as the actual slasher. This early girl
power endeavor needs a physics reality check — Gayheart's
100-pounds-soaking-wet character shows Freddy-like strength in picking
up bodies and tossing them about. The movie also stars Jared Leto.
There Will Be a Pop Quiz
No, not really, I was just hoping to scare you a little bit a la Freddy
Krueger. You know, blur the lines between fiction and reality? OK,
fine, so maybe it won't give you nightmares, but if you wake up in the
middle of the night dreading multiple choice questions or story
problems, that's me getting into your skull. I promise to have a real
story problem ready for you with the next 30/20/10.

Scott Sigler writes tales of hard-science horror, then gives them away as free audiobooks at www.scottsigler.com. His hardcover debut, Infected, is available in stores now. If
you don't agree with what Scott says in this blog, please email him
scott@scottsigler.com. Please include all relevant personal
information, such as your address and what times you are not home, in
case Scott wishes to send someone to "discuss" your opinions.
Read More