Piñata Reminds Us to Beware of What Might Be Lurking Inside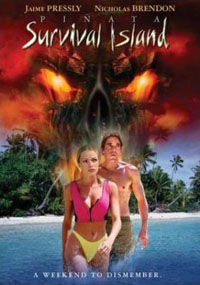 In Piñata: Survival Island , the titular piñata is filled to the brim with murderous rage instead of yummy candy. It's just one of the many movies Hollywood has produced in which statuary, urns, and sarcophagi fail to provide what you're hoping for once you crack them open.
• Raiders of the Lost Ark (1981): The Nazis expect to find a devastating mystical weapon within the Ark of the Covenant; unfortunately it comes with no instruction manual, nor any hint that you should keep your eyes closed when lifting off the lid.
• Ghostbusters (1984):
Gozer the Gozerian's hellhounds are turned into statues before any of
the major action goes down; after it's all over, they're cracked open
to reveal a couple of survivors long given up for dead. Unfortunately,
since there are only two of them, there's a fifty percent chance that
you'll get the one containing Rick Moranis.
• The Wicker Man (1974):
Little children might get particularly excited when they see this
particular piñata because it's several stories tall. However, once they
get close enough to see that it's actually stuffed with howling
livestock and human sacrifices, they'll never come to those May Day
picnics on Summerisle with you ever again.
• The Blair Witch Project (1999):
To be fair, viewers never got to see what was inside those creepy
humanoid twig-effigies that Heather Donahue, Josh Leonard, and Michael
Williams came upon while lost in the woods. Whatever it might have
been, I'm pretty sure we're all better off not knowing.
For the full schedule of Piñata: Survival Island on AMC, click here.
Read More