Playing Someone Gay Just Might Get You an Oscar Nomination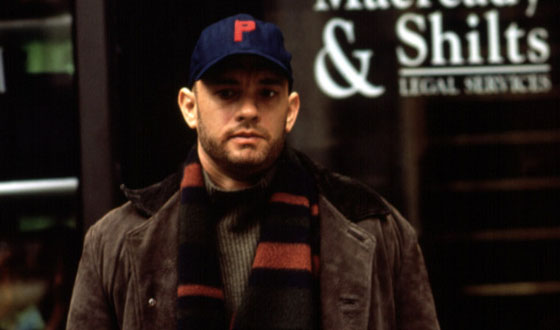 Mega-movie star Tom Hanks took home his first best actor Oscar when he played Andrew Beckett — the gay lawyer who successfully sues his firm for firing him after he contracted AIDS — in Philadelphia (1993), just a dozen years after AIDS was first identified. It wasn't the first time a major film star played gay (see Al Pacino, nominated for best actor in 1975's Dog Day Afternoon), but it happened at a time when fear and ignorance surrounding AIDS was worse than it is today.
More than a decade later, Oscar would reward Philip Seymour Hoffman with a best actor statue for playing the openly gay writer Truman Capote in Far From Heaven despite having picked up other nods along the way — but here are some of the actors who were recognized by the Academy:
• Robert Preston in Victor/Victoria (1982)
Nominated
for best supporting actor, Preston's gay cabaret singer Carroll "Toddy"
Todd is the one with the eureka moment that transforms Julie Andrews'
Victoria Grant into Count Victor Grezhinski — the woman pretending to
be a man pretending to be a woman.
• Bruce Davison in Longtime Companion (1990)
This movie was about the first years of the AIDS epidemic, tackling the topic three years before Philadelphia.
Davison got a best supporting actor nod for playing David, one half of
a gay couple that must deal first-hand with the disease, in a
performance that brings the movie "briefly to theatrical, very moving
life," according to the New York Times.
• Javier Bardem in Before Night Falls (2000)
This Julian Schnabel film starred Bardem as the Cuban poet and novelist
Reinaldo Arenas, who was also gay. This was Bardem's big international
break and got him a best actor nod (he'd get his Oscar seven years
later as best supporting actor for No Country for Old Men).
• Ed Harris in The Hours (2002)
In this Virginia Woolf-themed film, Harris is Richard Brown, a renowned
author dying of AIDS and a friend of Clarissa Vaughan (Meryl Streep ).
Nominated as best supporting actor, Harris shines in a performance that
was called "wrenching" and "incendiary" when the movie came out.
• Heath Ledger and Jake Gyllenhaal in Brokeback Mountain (2005)
They were known as the "gay cowboys," Ennis Del Mar (Ledger) and Jack
Twist (Gyllenhaal), and caused a sensation when this poignant movie
came out. Both were denied Oscars that year (Ledger as best actor and
Gyllenhaal as best supporting actor) despite their affecting
performances.
For a full schedule of Philadelphia on AMC, click here.
Read More