Midway Brings Bits of Tora! Back Into Action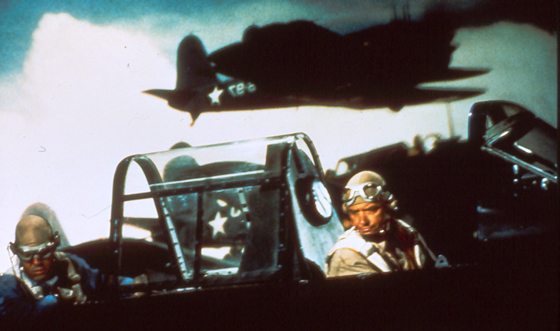 Did the producers of 1976's Midway consciously tried to build an association between their bombastic all-star war drama and the seminal hit Tora! Tora! Tora!? Filmed six years apart, the two were among the handful of WWII films produced in the '60s that spared no expense in recreating history — and yet Midway got some hand-me-downs from Tora! that viewers may not have noticed amidst the thrill of an initial viewing:
• By 1976 the Japanese-replica airplanes used in Tora! were still in good enough shape to perform in Midway — and they still are today. You may have seen one in 2001's Pearl Harbor, or in person at the 2007 Roswell UFO Festival where the craft performed a maneuver with guns blazing.
• If Midway's air raid footage looks a little different
than other parts of the film, it's probably because it's all stock film
left over from Tora! (Even that looks pretty sharp and clear
compared to the aerial dogfight clips, which are pasted in from actual
wartime newsreels.)
• While war movies usually showcase familiar faces — Midway's cast includes Charlton Heston, Henry Fonda and Tom Selleck — the movie features
a familiar voice as well: Prolific voice-over actor Paul Frees provided
the dubbed performance for the admiral played by Toshirô Mifune. If you think you recognize his voice from Tora!, it's because he dubbed the voice of the Japanese ambassador.
Compare for yourself. For a full schedule of Midway on AMC, click here.
Read More