Masters of SciFi – City of God Director Returns With Dreamlike Portrait of Society on the Verge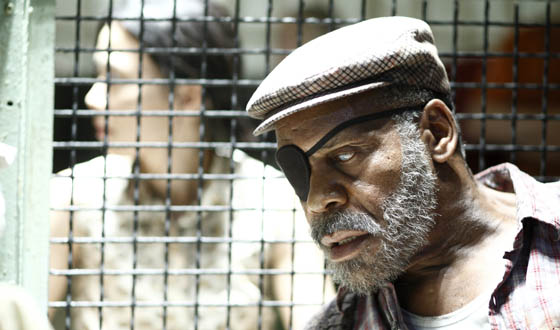 <img src="http://dev.blogs.amctv.com/wp-content/uploads/2008/09/Blindness_Glover_560x330_0076_2807_KW.jpg" alt="" title="Masters of SciFi – City of God Director Returns With Dreamlike Portrait of Society on the Verge" width="560″/>

Having first visited mankind's baser nature in the Academy Award-nominated film City of God , Brazilian filmmaker Fernando Meirelles is returning with an apocalyptic drama based on the José Saramago novel Blindness. He talked with AMCtv.com about the film's dreamlike qualities and optimistic undertones.
Q: What attracted you to Blindness?
A: This was one of those books that you read and don't stop. And I think what I liked when I first read it was the idea of how fragile civilization is — how everything can really crack in a moment and collapse. And then, of course, when I decided to do the film, I read the book again, and I found several other different layers in the story.
Q: What was the most difficult aspect of the project?
A: When you start a film, you have to give the audience something to relate to — the city of New York, for instance. And in this film the characters have no names; you don't know where they come from; the city where the story is set is not identified. The other thing that made it very difficult is that in a film you establish relationships through eye contact. With this project, the characters couldn't look at each other. It makes the relationship a bit cold, at times. So I thought, since I can't show what the characters are seeing, maybe I could try to express what they're feeling. I used a lot of reflections, sometimes reflections of reflections. I used very wrong framing — placing someone in the bottom right-hand corner of the screen or using a wide shot where somebody is talking and you can't identify who.
Q: The film has gone through some changes since its premiere, at Cannes.
A: The version that was shown in Cannes was a bit different. I brought some scenes back that I had cut, I remixed a bit, I did the color correction again, but the big change was the voice-over. When I removed the voice-overs, I think the film opened up and became very loose and dreamlike.
Q: Blindness has drawn comparisons to Children of Men.
A: I think Children of Men is more about society in the big picture. For me, the blindness, the disease — it's more of an excuse to put the lead cast inside this asylum and watch their behavior, like in a laboratory. You see what's happening, how they behave, and how they go back to their basic instincts.
Q: Apocalyptic films typically have pessimistic views of the future based on the way we behave today. Is that true of Blindness?
A: I think it is optimistic. Yes, this event happens and the group loses their humanity, but then they find it back. In some ways, we're saying there's some light: We're put under pressure, and we really go down. But the thing about humanity is it finds itself. It's also bittersweet, because they learn so much through their suffering, and one of the fears is they're going forget it. Sometimes, when we go through hell, we vow to change our lives. But then, little by little, we just go back to your old ways.
Q: Is that the take-home message of the film?
A: I don't want to go there. Each time I read the story or I see the film, I see different layers. I think this isn't a film where you should try to understand everything. I think it's interesting if you watch it as an experience, like a dream. It's really a difficult film. My next will be a comedy: very easy, no responsibilities.
Read More