Masters of SciFi – Heroes Scribe Jeph Loeb: Call "Villains" a Comeback, if You Want.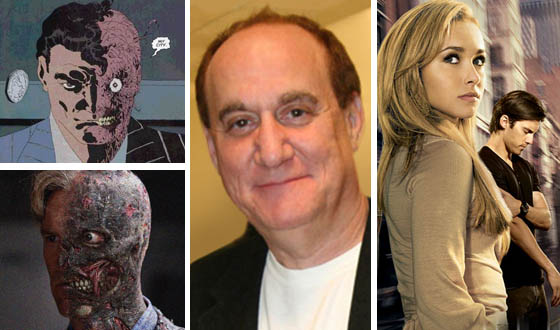 Heroes Scribe Jeph Loeb: Call "Villains" a Comeback, if You Want." width="560″/>
Heroes executive producer Jeph Loeb discusses the show's upcoming season, reflects on The Dark Knight's inspirations, and hints at his hopes for a resurrected Buffy.
Q: Why did you choose the theme of villains for Heroes's third season?
A: The show was built upon this idea of what would happen if an ordinary person suddenly developed extraordinary abilities? So we wanted to pose the question: What would happen if an ordinary person develops abilities and they were not a good person? Within us all, there is a kind of darkness. The best kind of villain stories are the ones where you really understand their point of view.

Q: You're saying we should empathize with Sylar?
A: Even Sylar has a side of him that can be reached. And when that happens, is that a good thing or a bad thing? It's like when you take a wild animal and you put it in a cage. It'll start to behave itself, but I don't think you want the lions roaming freely around the Bronx Zoo.
Q: How did you deal with fans losing interest last season?

A: I have to be perfectly honest with you — I never saw it. We still have 76 million people around the world that watch this show, and the DVD for the second season is selling more than the first. I think with any serialized form there's always a period where people need that crack – they need their fill of action. And if that crack is not coming fast enough for whatever reason they start thinking, "I need the crack!" We love our fans, but if we started to adhere to anything that anybody wanted to do on our show other than what goes on in that writers' room, it's a disaster. People love a comeback, and if that's the way people want to promote Heroes Season 3, have at it!
Q: Two of this summer's biggest blockbusters — The Incredible Hulk and The Dark Knight — were based largely on your comic books. How did you react?
A: For me the biggest thrill was when Harvey Dent turned his head in The Dark Knight and we saw that incredible makeup, which was exactly how Tim Sale drew him in The Long Halloween — no one else had drawn Two-Face that way. This was a graphic novel we did ten years ago! When I started working in Hollywood, I was the guy who had written a lot of movies and television and also did that comic book thing; now I'm the comic book guy who can do all those other things.
Q: The sequel to The Long Halloween, Dark Victory, features Robin. Could you see the next Batman movie tackling the character?
A: I am fascinated by the idea of a guy who knows what he's doing is insane, but then chooses to bring a child into it. You could do that story, if you did it like Dark Victory, which is that he meets Dick Grayson a quarter of the way through the film, and it isn't until the last ten minutes that he becomes Robin.
Q: You've been with Marvel exclusively for three years. Do you miss Batman?
A: No. I like changing up the game — I was on Smallville, I was on Lost, I'm on Heroes. It just comes down to whether it's a story I want to tell. Would I go back and work on Batman? Absolutely. When Dark Victory came out, I really felt like it should have been called The Long Halloween 2: Dark Victory. There is a Long Halloween 3 in my head that I've talked to Tim [Sale] about.
Q: Tell me about your Buffy the Vampire Slayer cartoon that recently leaked on the Internet.
A: I worked a year and a half of my life on it, as did Joss [Whedon] and the Buffy writers, then they sold our network. I think if you ask Joss, he'll laugh and say Jeph Loeb has been smoking too much of whatever he smokes and that's why he thinks this show is coming back on the air. But I've always said to Joss that the best Buffy stories are tales of resurrection. They are vampires, after all.
Read More