Masters of SciFi – Lance Reddick Discusses Playing Darth Vader on Lost and Captain Kirk on Fringe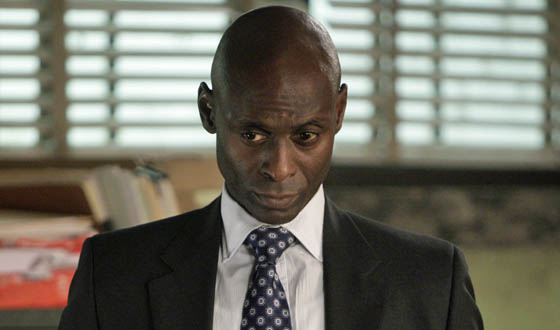 Lost and Captain Kirk on Fringe" width="560″/>
After rising through the ranks of The Wire, Lance Reddick reprises his role — sort of — in J.J. Abrams' new series Fringe. He talks to AMCtv.com about Fringe, Lost, and his lifelong dream to sit in Captain Kirk's Chair.
Q: What attracted you to Fringe?
A: Well, first of all it was J.J. Abrams. Secondly, it was really exciting. Even though the role is similar to what I did on The Wire, the situation is so different because the genre is so different. So I just thought it would be really exciting to do something that had such a strange tone. The Wire really drew on a lot of real-life situations and real-life organizations — it created fiction to make a social statement about reality. Fringe may make social statements, but it's much more about entertainment. And so creatively, there's a lot more room and liberties to take.
Q: What makes you such a good police captain?
A: Honestly, it's ironic that J.J. is doing Star Trek, because one of the reasons is that the first thing that drew me to acting was wanting to be Captain Kirk when I was a kid. It's weird because growing up, I never thought I would be an actor, but I was a huge fan of Star Trek. And I remember reading somewhere that William Shatner had been a Shakespearean actor. So one day I took one of my dad's old books of Shakespeare and started reciting monologues.
Q: How were you not cast in the upcoming movie?
A: What happened was I met J.J. on the set of Star Trek after I was cast for Fringe. I flipped out. I mean, I was on the bridge of the Enterprise! I was like, "J.J. can I sit in the chair?" He's like, "Yeah, go ahead." I sat in Captain Kirk's chair — and, man, it was great! I told him I always wanted to be Captain Kirk and said, "You gotta put me in the next Star Trek." He said, "I wish I knew — there was a role here you would have been great for." Knock on wood he'll put me in the next one.
Q: How was your character on Lost, Matthew Abbadon, explained to you?
A: I was told he was kind of like Darth Vader. That was about as much as I was told. And that really told me more about where he sits in the power structure of this other organization. I've done three episodes of Lost, and in each, I'm in a different time, and my character is different. The truth is with Matthew Abbadon and that whole organization that I'm a part of, I'm not even willing to place bets on whether I'm good or bad. Here's what I'm clear on: I believe in what I'm doing, I'm a master of surreptition, and when it comes to getting things done, I can be calculatingly ruthless.
Q: Will your character return this season?
A: Yes, when and how often and to what capacity — I have no idea. I'd like to believe we'll learn more about him. So much of Lost is about revealing who these people are. And every time there's a character of any kind of significance, as the show goes along, more and more about them becomes revealed.
Q: How did you feel about ending The Wire after five seasons?
A: I had such mixed feelings about The Wire ending. From an artistic point of view, I was tired of doing the character, which is a little ironic because my character is similar to Fringe. I felt that I was so ready for it to be over, but after my last shot, David [Simon] was on set, he basically said good-bye in front of everybody, and I lost it. I had walked into something that was a part of television history. And I was about to walk out of it. The role wasn't my Sophie's Choice or my My Left Foot — and I do want that — but in terms of my career in television, I feel like it may be artistically the pinnacle.
Read More