Mashed Up or Sweded – The Homemade SciFi Worth Watching Online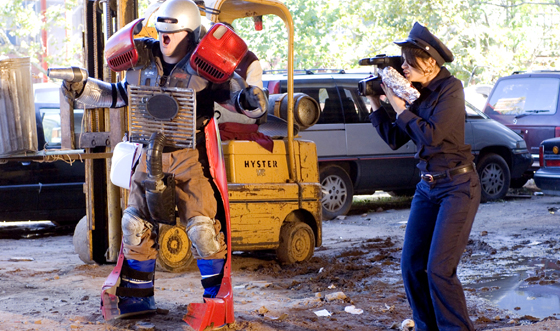 We live in an age of homebrew science fiction television impossible to imagine thirty years ago. An age when affordable computers, cheap cameras and film editing programs easily allow almost any fan to make a respectable short film, and better. An age where online video sites like YouTube, Google Video, Vimeo and Daily Motion allow that same fan-turned-filmmaker to broadcast his creation to anyone who wants to tune in.
The Portal
In many ways, Steve Sutton — a quiet, spectacled 43-year-old with a curiously monotone way of expressing himself, the very model of quiet desperation — defines the entire spirit of that YouTube scifi amateur: An implausible amalgamation of genius, passion, incompetence… and zero budget. Since 2005, Sutton has been releasing regular episodes of his Portal series of webisodes, an inter-dimensional, space-hopping, time travel epic with dozens of characters and locales. If that sounds impressive, consider this: Sutton performs all of the characters, and films the entire series in front of his computer's webcam, with his bedroom as the soundstage and an old green blanket pinned to the ceiling doubling for a green screen. It's easy to laugh at the crudity of Steve's efforts, and in truth, that's why most people first watch the series, but ultimately, it's hard not to eventually become hypnotized by Sutton's laconic passion for his subject.
Sweding
This Sutton-style genius/incompetence in amateur
filmmaking is so ubiquitous with YouTube scifi that it has recently hit
the theaters proper. In Director Michel Gondry's Be Kind, Rewind Terminator 2: Low Budgement Day,
which only bothers to remake the most ridiculous or perverse scenes in
Cameron's masterpiece, but there are also hysterical sweded versions of
John Carpenter's The Thing, Back to the Future and of course Star Wars.
But Sweding is really nothing new. Before home video, the only way
you could see a favorite movie again — unless you were lucky enough to
catch it on television or at a revival — was to remake it yourself on
Super 8. With the era of online video, these private labors-of-love are
finally available for the rest of us to see. For example, in 1977, a a
trio of dorky youths caught a matinee of Star Wars
at the White City Cinema in Worcester, Massachusetts. They were so
blown away that the remainder of their summer was spent in a feverish
delirium of fanboy enthusiasm, desperately recreating costumes and sets
by memory, and committing them to Super 8. The result is genius, but no
one could see it for thirty years. Now, all we need to do is go to Google Video and hit play.
The Mash-up
But creativity inspired by popular science
fiction doesn't merely confine itself to the amateur remake (whether
tongue-in-cheek or enthusiastic). There's also the mash-up, in which an
original film or clip is re-edited with another piece of
media to form something wholly new. To illustrate the YouTube mash-up,
there's no finer example than Closer,
which edits the sweatiest and most eyebrow arching moments between
Captain Kirk and Spock into a homoerotic masterpiece, as Trent Reznor
serenades the two self-denying lovers in the background. Just as good
is Darth Vader being a smartass.
Original science fiction also inspires new media online. The Chad Vader series follows Darth Vader's twin brother through his travails as a night shift manager at a local supermarket. The Star Trek: New Voyages are a fan-made "Phase II" of the original Star Trek
series, following the crew of the Enterprise on their second five year
voyage; the series has proven illustrious enough to garner many guest
appearances from the original cast, including an appearance by George
Takei as a time-traveling Mr. Sulu from an alternate future.
Original Productions
But there's fine original scifi to be found online as well. Neill Blomkamp's Alive in Joberg is a masterpiece worthy of being screened in any Hollywood theater, if not for the fact that it is only six minutes long. Alive in Joberg
envisions an alternate Earth's South Africa where apartheid never
ended, but was instead strengthened by the arrival of peaceful aliens
from another world, who are persecuted as "space trash" and exiled to
ghettos. It is a stark, brutal, finely made scifi metaphor for our own
society… a work of genius so respectable that it prodded Peter
Jackson into hiring Blomkamp as a director for the upcoming film based
on Microsoft's Halo series of video games. Another original short that ended up garnering its creator a Hollywood job is Ruairi Robinson's Silent City,
which follows a group of marines in a dead, post-apocalyptic city
filled with murderous military robots. The short so impressed that
Ruairi's next project will be a two-film remake of the Akira manga. Online video can start careers.
Obviously, this is just the tip of a creative iceberg. The Internet
was created by science fiction geeks, and online video is their latest
digital canvas. What's so amazing is that if you look at the science
fiction literature of the 20th century, a thing like YouTube has never
been envisioned once. Online video is living science fiction, and we're
all characters in it.
To see what's worth watching online in horror, click here for Scott Sigler's take.
Read More