How a Coke Machine Fueled the Feud Between Davis and Crawford on Hush…Hush, Sweet Charlotte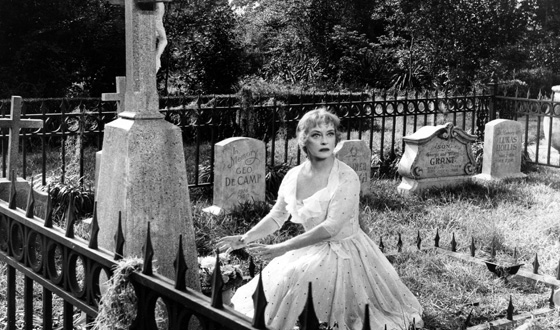 What Ever Happened to Baby Jane?.
(Davis once said, "The best time I ever had with Joan in a film was
when I pushed her down the stairs in What Ever Happened to…") The
volatile duo were set to reprise their onscreen tussle in Hush…Hush, Sweet Charlotte,
when Crawford dropped out due to illness causing Olivia de Havilland
to step in at the last minute. But Crawford's presence was still felt,
and Hush…Hush remains a notable chapter in the Davis/Crawford feud.
Baby Jane was a box office success, and inspired two other films in the series: Hush…Hush, Sweet Charlotte,
originally titled What Ever Happened to Cousin Charlotte? and the Aldrich-produced What Ever Happened to Aunt Alice?,
starring Geraldine Page and Ruth Gordon. Though consummate
professionals, Davis and Crawford had bad blood that dated back to 1935's Dangerous , reportedly clashing then over their mutual feelings for Davis's costar Franchot Tone.
The trouble with Charlotte
began when Crawford, then on the board of the Pepsi Cola Company and
widow of CEO Alfred Steele, had a cooler of Pepsi products installed on
the set. Soon after, a Coke machine appeared. Was Davis taking a shot
at her costar? It's unclear whether or not Davis was behind the
machine, but she was rumored to have toasted eventual Crawford's
departure from the film with de Havilland over a couple of frosty
Cokes. When Crawford's illness delayed production, Aldrich approached
several other actresses to fill her shoes. (Vivien Leigh famously said,
"I can just about stand looking at Joan Crawford's face at six o'clock
in the morning, but not Bette Davis.") Finally, Davis suggested her
friend de Havilland, and things continued without a hitch. (More or
less: Aldrich was convinced that Crawford was feigning illness to get
out of the film, and even hired a private investigator to follow her.)
Ironically, Joan Crawford's presence is still felt, literally, in Charlotte —
the back of her head is visible for a moment when de Havilland's Miriam
gets out of a taxi. Even worse, she stole the Oscar from Davis for a
few seconds of screentime. I kid, I kid. Please don't haunt me, ghost
of Bette Davis.
Click here for a full schedule of Hush…Hush, Sweet Charlotte on AMC.
Read More