Get Ready for Gattaca – DNA Testing Is Easier Than Ever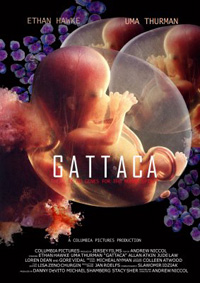 Everyone's says we're living in a Gattaca world but are we? It's true that testing your DNA has never been easier: One company, 23andMe, is organizing "spit parties" and has lowered the price of testing to $399. Unlike in the futuristic movie, testing is voluntary and the results remain private — but when spitting in a test tube makes you the life of the party, it's only a matter of time before you'll have to worry about looking good on the outside and inside.
We are all susceptible to
disease; the testing tells us to what extent.
The website for 23andMe says "the benefits our customers accrue in accessing their genetic information outweigh potential risks."
And they're marketing it with that in mind. Dr. Alan Guttmacher, the
acting director of the National Human Genome Research Institute of the
National Institutes of Health, offers a less optimistic point of view.
He told The New York Times:
People think if you have money to spend on this, why not
buy a test instead of a model train for Christmas…It can be neat and
fun, but it can also have deep psychological implications, both for how
you view yourself and how others view you, depending on who else has
access to the information.
If you think you're ready (and you have the money) 23andMe provides
information on 89 genetic markers including details of ancestry as well
as what current research suggests are proclivities to certain diseases
and other genetic traits like one's appetite for sugar and
responsiveness to antidepressants.
When the husband of
company's co-founder Anne Wojcicki found out he has a gene mutation
that increases his likelihood of contracting Parkinson's disease, he
went public on his blog. "I now have the opportunity to adjust my life
to reduce those odds (e.g. there is evidence that exercise may be
protective against Parkinson's)," he wrote. "I also have the
opportunity to perform and support research into this disease long
before it may affect me." Easy for him to say. He's Sergey Brin,
co-founder of Google and recently ranked as the 13th richest American
by Forbes.
If you live paycheck to paycheck or are
trying to get health insurance, you might want to keep your genetic
predispositions to yourself. Sure, President Bush signed the Genetic
Information Nondiscrimination Act into law on May 21, 2008 but those
laws didn't do much good in Gattaca.
Read More