Site of the Week – Former Child Star Central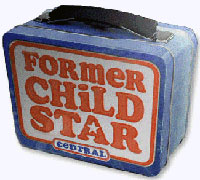 What do Christian Bale, Haley Joel Osment and Andy Gibb have in common? They were all child stars. And Joal Ryan keeps tabs on each of them. Whether you're interested in what happened to the Brady Bunch or the Brat Pack, her blog, Former Child Star Central has news, information and deep thoughts you'll want to read. Find out, for example, how two magazine cover stories ruined Molly Ringwald's career.
It started as an email newsletter in 1997 and became a stand-alone
website in 1999. "People are interested in former child stars in the
same way they're interested in their former classmates," says Ryan,
"They want to know what happened. How'd they turn out? Who got fat? Who
got bald?" When it's time for a reunion, her site is
there to help.
If you can't find information about a particular child star, it may
be that he or she wasn't one. Ralph Macchio was in his 20's when he
became The Karate Kid. (Looking young might make your friends jealous, but it doesn't make you a child star.) As to who is
on the site, Ryan says it's often up to readers who write in with
requests. Though she adds, "A site-worthy former child star is one with
a good story, or one who's been 'lost' for so long that any info I can
find makes for a good story."
If a former child star is in
trouble she'll write about it but she doesn't buy into what she calls
the "child-star-gone-bad mythos" — the idea that being a child star
will ruin you for life. "Danny Bonaduce tells a great story about going
to rehab, and learning he was the lone former child star there, among
eight dentists," she says. "Should we be asking why do dentists go
bad?" The idea is also explored in her post "Homecoming queens and Tatum O'Neal."
Was
Ryan, now an entertainment journalist, once a child star? "Outside of
the R.D. White Elementary production of 'Oliver!' in the fourth grade,"
she jokes, "no." She manages to keep the site updated by googling as
fast as she can and will gladly respond to emails about child stars
sent to formerchildstarcentral@yahoo.com on her site. But, no, she will not
give you Scott Baio's address.
Read More