David Cronenberg Says The Fly Was Always Operatic (And Now It Really Is)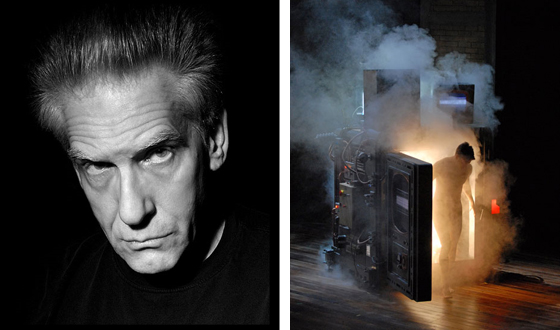 The Fly Was Always Operatic (And Now It Really Is)" width="560″/>
By now virtually everyone has cracked a joke about David Cronenberg's new opera (based on his horror masterpiece The Fly). But detractors might reconsider the wisecracks after seeing the two hulking telepods on stage at the Dorothy Chandler Pavilion. They're pretty scary and looking at them in person, you can't help but note with a shiver that before the final curtain, the audience will find itself in the same room as a real live Brundlefly, baritone or not.
The pods flank Cronenberg ominously as he speaks on the set in L.A., where his new pet project appears throughout September. Like David Hedison — whose book The Fly at 50 comes out this fall — the director claims that he's considered the story operatic in scope ever since he and composer Howard Shore began work on the film in the '80s. "I think the seeds for this opera were planted then, when Howard and I were talking about how we were going to do the music," says Cronenberg. "The music he's created for my movies has been relatively low-key, but it's very intense when it has to be. At the time, he thought a very operatic and theatrical approach to the music would work, because of the nature of the story… It's very heightened, very intense, very emotional, and very claustrophobic really, because it's basically three people in a room. The original Fly wasn't exactly like that, but in essence it was."
The opera isn't an outright remake of the movie by any means. For example, the director insists that there will be no acid vomited onto the Pavilion's beautiful hardwood floor. Just as he strove to avoid associations with the 1958 original when he shot his own version, Cronenberg has avoided repeating himself when he revisited the story. "I never want to send-up a movie, or make movies that are particularly referential. That's just not how I do it," he says. "Back then, some people said to me, 'Will you have Vincent Price do a cameo role?' Of course not. Not because of any negative feelings toward Vincent Price, but because it would take people out of the movie. I wanted people to be in the movie, and I wasn't going to assume that people who saw my movie had seen The Fly or knew it or loved it.., and it's the same here. Whatever I'm doing has to work as a stand-alone piece. Of course there's always a context, but the context changes over time in different countries and different cultures. The movie will be seen in many different places and situations. The Fly would work on your iPhone." For the opera, though, you really have to be there.
Another departure is that this time, the story is set in the 1950s. "There is an interesting kind of resonance between then and now… In the world stage, with the presence of Russia as an aggressive force to be dealt with; in the fear of nuclear weapons, which was so intense in the '50s… In the fascination with a new field of science that has opened up, which in our case is DNA and genetic research, and in that case was nuclear energy. The excitement about it and the fear of it at the same time."
Cultural déjà vu aside, working on The Fly: The Opera hasn't necessarily inspired the director to make another big, disgusting creature feature. "First of all, I never think of my movies as disgusting, I think of them as beautiful," he gently corrects. "But no, the rhythms of what I'm doing in movies has changed… although the movie I'm writing the script for is a sci-fi movie." In the meantime, Cronenberg has relished this chance to test his mettle in a new medium. "At the premiere in Paris I came out onstage afterwards and the standing ovation we were getting from the audience was very exciting," he says, surveying the telepods' flickering lights. "I was hoping to get the full theatrical experience, and I got it."
Read More