Daily Scan: 9.23.08 – Timur Hunts Moby Dick, Spielberg Bankrupts a Belgian Icon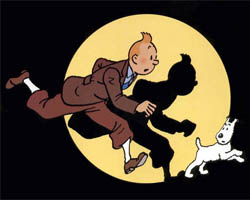 • The Large Hadron Collider may be broken, but that hasn't stopped Hollywood from exploiting mass panic: Kingdom of the Crystal Skull writer David Koepp is in talks to pen a script about a particle accelerator that takes over a small town. It's like Village of the Damned, on an atomic level, we're guessing.
• Sure Eagle Eye looks terrible. But it's a great excuse to interview director D.J. Caruso about his plans for major plot changes to Y: The Last Man.
• Wanted director Timur Bekmambetov is out to neuter even more classic literature with his screen version of Moby Dick, which he says will be a revisionist remake with a graphic novel sensibility.
• The first pictures surface from the set of Kick-Ass. And we're McLovin' 'em!
• Universal drops out of Steven Spielberg's planned production of TinTin after realizing it would need to take in $425 million just to break even. That's a whole lot of Belgian Waffles.
Read More