Daily Scan: 09.26.08 – A Bluetooth Headset Goes Steampunk, Star Wars Tub Toys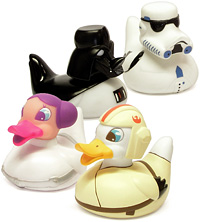 • Fantastic list over at io9 of the the greatest robot hoaxes of all time.
• Stephen Hawking has unveiled a $1m clock that features a strange, time-telling grasshopper. It is awesome, and called the Chronophage.
• Now this is an interesting idea: What if the mysterious death of a main character the Sarah Connor Chronicles creators keep talking about is John Connor's?
• William Shatner rants and raves about what he claims are lies that he was actively pursued for a role in Star Trek Xi. I love the Shat.
• A marvelous steampunk bluetooth headset.
• A long time ago, in a bathtub far, far away. I just wish there was a Jabba the Duck.
Read More