Daily Scan: 09.11.08 – Fox Searching for Superhero Movies to Make, Large Hadron Collider Turned On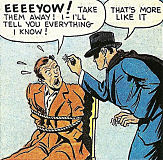 Nickelodeon's list of lamest superheroes is a bit obvious… but how can you possibly include Matter Eating Lad? He's the AWESOMEST superhero.
• Another profound thought to consider as you stargaze: Aliens could be manipulating the blinking of stars to send messages to us.
• After a shoddy box office summer, Fox is freaking to get more superhero movies out. Problem: they only have the rights to X-Men and Daredevil.
• This will never happen, but interesting rumor fodder: Catherine Zeta-Jones as a companion in a Doctor Who movie?
• The Large Hadron Collider has failed to suck the world into a quantum singularity. Tell your friends!
Read More