Daily Scan: 09.03.08 – Lawsuit May Delay Watchmen, Does the World Need Another Ninja Turtles Movie?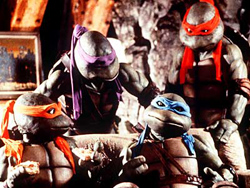 • The lawsuit between Warner Bros. and Fox may delay Watchmen until June 2009. The trailer looks great, but I think Snyder is too faithful to comics, adapting them as if they were storyboards. They're not. I can wait.
• SF Signal hosts another Mind Meld: How do media tie-in novels affect scifi? In the case of Star Wars, they're about all that's left of a once proud franchise.
• Should the little house in which Jerry Siegel and Joe Shuster created Superman be preserved as a historic site? My vote: No. When I lived in Ireland, every house was "culturally preserved" for some frivolous reason. They were therefore impossible to renovate and thus, quite crappy. Culturally preserve architecture for architecture's sake: Something vaguely significant has happened in every home.
• The SciFi Channel was so incensed by rumors that Battlestar Galactica would be delayed to the end of 2009 that they've debunked them. Though the word is weasely: They claim it is still "slated" for January, not confirmed.
• Does the world really need another live-action Teenage Mutant Ninja Turtles movie? Only if Vanilla Ice agrees to return.
• Comics scribe plans to write the next Superman trilogy, citing the approach he wants to take as Lord of Rings like.
Read More