Site of the Week – CINEMARETRO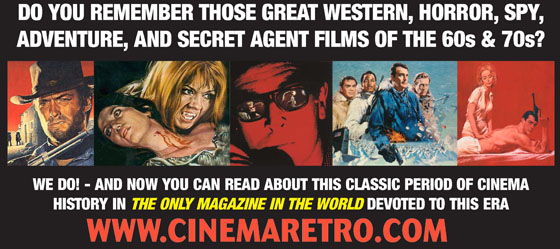 In January of 2005, a time when everyone else was moving away from paper publishing, Lee Pfeiffer and Dave Worrall started Cinema Retro, a magazine celebrating films of the 1960s and 1970s. "People said, 'You'll never get out the second issue'," says Pfeiffer. Eleven issues later, the magazine is still going strong — and so is the website they created to promote it, cinemaretro.com.
"By May 2007, we realized we had to have a more dynamic website to compliment the magazine," says Pfeiffer. "Additionally, we needed a way to cover time sensitive issues that would be outdated in the magazine, which is published three times a year." So, they turned what Pfeiffer describes as "a stagnant site that solicited subscriptions for the magazine" into a full-fledged movie news site with its own, exclusive content.
Why focus on films from the 60's and 70's? "We truly believe that it
was the greatest era in movie making history, when envelopes were being
pushed," explains Pfeiffer. "Hollywood began to nurture offbeat films
like Easy Rider and Midnight Cowboy ."
Plus, he says, "You had the old guard like Hawks, Ford and Hitchcock
working at the same time a generation of young Turks like Coppola,
Spielberg, Scorsese and Lucas were emerging."
He and Worrall
know what they're talking about. The pair has written numerous books
about retro films; with a special concentration on the James Bond
franchise. "With Casino Royale ,
they brought Bond back into the real world. I thought it was superb on
every level — particularly Daniel Craig's performance," he says about
the series today. "In an era in which macho leading men are a vanishing
species, he's the real deal, like a young McQueen or Bronson." Beyond
Bond, they recently wrote about the making of John Wayne's directorial
debut, The Alamo , and adds Pfieffer, they've "completed the most definitive book ever done about Clint Eastwood's westerns."
Their
depth of knowledge is what draws readers to the site and magazine. It's
also appreciated by those they're writing about. "I got a phone call
from James Caan's office saying he read an article by one of our
writers about him on the website and he thinks it was the best thing
ever written about him," says Pfeiffer. "He invited our writer to come
over from London and spend an entire day with him to discuss a lot of
the movies no one's ever asked him about, cause they always ask him
about The Godfather ."
In
the end, Pfeiffer admits the website is still meant to attract
subscribers for the magazine. "We're always trying to convince people
to take the plunge." But he admits, "Trying to get people to actually
take a chance on a magazine is not an easy thing to do in the Internet
age."
Read More