Web Stalker – Lovecraft Historical Society's Whisperer in Darkness Waits in the Wings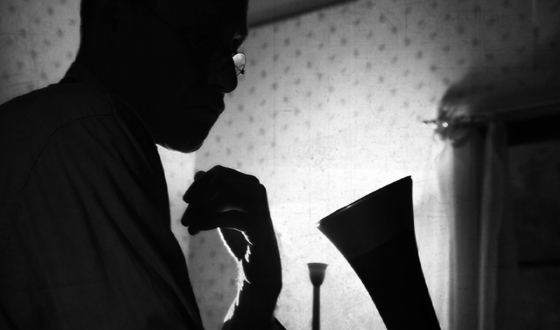 Whisperer in Darkness Waits in the Wings" width="560″/>
In June I spoke to Dan Gildark about his film Cthulhu, which has finally shambled into theaters this month in very limited release. I'm pleased to report that the film is nothing more or less than Gildark promised: It's not an adaptation at all, but a bizarre tour through Lovecraftian landscapes. Critics should be less worried about whether the film is too gay and more concerned over whether its plot makes any sense at all without H.P. Lovecraft's relentlessly linear storytelling. In the meantime, those still waiting a faithful screen adaptation of their favorite early-20th-century fearmonger won't have to wait too long. Filmmakers Sean Branney and Andrew Leman, whose 47-minute silent short, The Call of Cthulhu, hewed closer to the source material, are nearing the finish line on their follow-up project, The Whisperer in Darkness.
A message on the H.P. Lovecraft Historical Society (HPLHS) website says: "Yes, we're working on Whisperer. No, we don't know when it will be done. Please watch the trailer over and over again in the meantime." As the director this time around, Branney is starting to feel the heat, but the HPLHS filmmakers refuse to be rushed. "There's been a lot of goodwill toward the project. Almost every day I get a couple of emails from people asking when they can see it — which is great, for a movie that's not actually made yet," he says.
Whisperer chronicles the correspondence between two
strangers
who begin comparing notes about mysterious occurrences in the New
England woods. As one of the men describes finding himself at the mercy
of inhuman attackers, the other must decide how — or whether — to
lend a helping hand. "Our goal is to not change this story, not
transform it, but to keep it intact," says Branney. "If Lovecraft
himself had been hired or commissioned to make it a movie script, what
would he have done that would've kept it true to his vision and tone?
About two-thirds of our film cleaves very closely to what he wrote, but
the story doesn't have a climax — it just stops." Continues Branney,
"He doesn't resolve his own situation at all — and that situation is
actually pretty perilous at the moment the story stops!" Branney's aim
is to find something "cinematically satisfying to an audience, but not
something that brings in lasers and girls taking showers and funny bits
with a dog… things that don't really have any bearing in a
Lovecraftian world."
Branney caught an earlier edit of Gildark's Cthulhu a
couple years ago, and while not a fan per se, he opines, "Not many
Lovecraft films are made, so it was nice to see someone taking this
on." Adding, "I like seeing people who approach them seriously. There's
no camp or parody or humor in Cthulhu… some of that Stuart
Gordon stuff sort of walks the edge of making it something that the
source material isn't, so on that level, I thought Cthulhu worked well."
While I am, faithful to the instructions, watching the Whisperer trailer over and over again, I may cheat ever so slightly and take a glimpse at the version put together by Gravehill Productions (which lacks the slick style of the HPLHS project, but has its own manic charm)
or sate my hunger with artist Don Heck's graphic novelization this
fall. As any die-hard fan knows, in times of famine, you go
where the goods are.
Read More