Web Stalker – Joan Jett Urges Her Fellow Rocky Horror Fans to Keep an Open Mind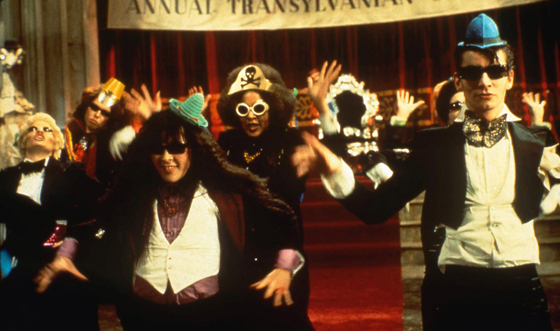 <img src="http://dev.blogs.amctv.com/wp-content/uploads/2008/08/rocky-horror.jpg" alt="" title="Web Stalker – Joan Jett Urges Her Fellow Rocky Horror Fans to Keep an Open Mind" width="560″/>


There's no doubt that remakes are a hot trend in horror. Fans have been moaning "Is nothing sacred?" for some time but the recent announcement that MTV is assembling a Rocky Horror Picture Show remake in time for next Halloween has raised that noise to a fever pitch. On the official Rocky Horror fansite, reactions range from disbelief to rejection. "Let the battle begin!!" commented one fan, anticipating the inevitable bickering.
Joan Jett — haven't failed to overlook. The musical debuted in London in 1973 and arrived on Broadway in 1975, just months before the iconic film premiered. By the time Jett brought a "street tough edge" to the character of Columbia in 2000's Broadway revival, fans had already claimed the music and characters as their own via stagings, screenings, and singalongs. "I've been a fan of the movie since it came out," says Jett. "I guess it coincided with the beginning of my band, The Runaways, so I remember
going to see it many times in Hollywood when I lived there."
Those who weren't able to see the show in New York were still able to get a taste of Jett's performance on television,
when she performed as part of the Tony Award ceremony. "A lot of people
still come up to me and say they really loved the show," says Jett. "I
started out acting in school, in stage plays, so to be able to actually
make it to a Broadway stage… I was just happy to do it! If
people saw it, that's great, but it was a real learning experience — I
learned things then that I still use now." Joan sees the remake as the
same sort of education for a whole new cast. "I think it's going to be
really interesting to see what they're going to do with it — they have
very big shoes to fill: Getting the right cast, seeing how they work
with the material… then there's the campiness of the original and the
fact that it was somewhat low-budget," she says. "There are just so
many intangible qualities involved, but all these elements combined the
first time to make it magic." This rash of remakes makes her wary, but
Jett is keeping an open mind: "It's not just horror movies being
remade. Every TV show has been done and re-done. It's nice to see
updates on movies that have already been made, but I'd like to see some
originality too."
As for casting, it's been rumored for years that
Marilyn Manson would be the heir to Tim Curry's fishnets, but right now
all the roles appear to be up for grabs. Jett hopes the studio casts a
wide net. "There are so many great actors out there — It would be
great to see some Broadway actors in the movie version," she suggests.
Jett's recent tour schedule has been exhausting, but there have been
perks along the way, including being the first woman to have a
signature guitar issued by Gibson in her honor.
"Other people have fashion lines and perfume, but I have a guitar," she
says. "It says 'Joan Jett' on the neck. It's actually turned out to be
a very successful guitar for Gibson — it just came out about a month
ago, and it's been sold out mostly since then. Very exciting!" Sounds
like a pretty full dance card these days…so would Jett accept a role
in the new Rocky Horror if producers came a-courting? Jett wouldn't mind hearing what they have to say. "We could talk," she says.
Read More