Two Things Cronenberg, Kubrick, and Stephen King Have in Common? Twins!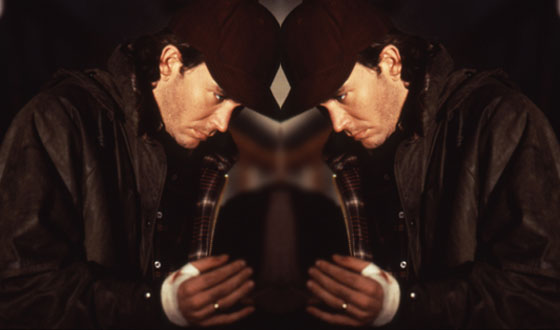 Fertility drugs have made twins more common. So what? They're still inherently scary. Part of their freakishness comes from the fact that they make a mockery of individuality. (Think you're one-of-a-kind? Think again!) Part of what makes them useful to film directors is how they lend themselves to exploring polarities. (One twin's good; one twin's evil — that's practically a plot.) Another is how they mess with the notion of familiarity. ("But I swear I saw you here at such and such a time, doing this or that.") Consider the great directors who have milked twinness for all its worth: Brian de Palma with Sisters , Stanley Kubrick with The Shining , and David Cronenberg with Dead Ringers .
Sometimes the representation get downright outlandish conceptually (and that's without even mentioning highbrow auteur Peter Greenaway's A Zed & Two Noughts ).
For something a little more lowbrow, there's
The Dark Half , a Stephen King chiller in which the evil sibling is
basically a supernatural stillborn. When the better half grows up to be a successful novelist, the titular dark half
takes over to pen trashy bestsellers pseudonymously. If this all
sounds a bit extreme, it is. In some ways, the film
resembles the brilliantly grotesque comedy How to Get Ahead in
Advertising, in which a man's id literally emerges as a little face on his neck. In both The Dark Half and How to Get Ahead…,
what ensues is a battle between the good and bad sides of the same person (and a couple of disarming performances from Timothy Hutton and Richard E. Grant respectively).
To catch half of these two particular explorations of psychic splits, check out The Dark Half on AMC. Click here for the full schedule.
Read More