Tomorrow Never Dies Reinvents the Bond Villain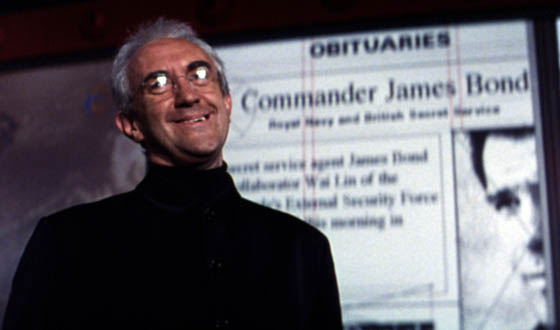 The James Bond franchise was in its fourth decade when Tomorrow Never Dies was released in 1997. A midlife crisis loomed as the series struggled to fulfill two competing mandates: Keep the plot current and retain enough of the style to avoid alienating longtime fans. So with the old Cold War megalomaniac model dry and stale, it was necessary to introduce a new kind of villain bent on worldwide domination.
"It's very difficult to find contemporary big problems that involve the end of the world or some major crisis where an English spy is involved," director Roger Spottiswoode said in an interview. "England has become irrelevant, I'm afraid, to almost all international politics. So finding a storyline where you can in any way convincingly say 'Oh, an English spy, Mr. 007, has to get involved and help,' is very difficult…" But not impossible.
Enter the mainstream media, which at the time was taking a lot of heat for its partisanship, underreporting or outright distortion of the news. Fox News had launched in October of 1996; Rupert Murdoch was pegged by some as a baddie media baron. How to translate that into Bondian terms? Tomorrow's Elliot Carver (Jonathan Pryce) was just the man for the job — a mogul with easy-to-spot similarities to the late Robert Maxwell (the defamed British media mogul) with just a sprinkling of Ted Turner. Carver's answer to the maxim "The pen is mightier than the sword" was the even more resolute "Words are the new weapons, satellites are the new artillery."
Bruce Feirstein, the film's credited screenwriter, remembers his inspiration for the character: "I was watching the satellite news in my hotel room. Flipping back and forth between Sky News, the BBC and CNN, I was amazed – and startled — by how different their coverage was of the mideast. Each one brought a particular bias to their newscasts — and each one portrayed the same exact event with a different villain, a different explanation, and a different analysis of who gained or lost."
Feirstein asserted that these observations were the germ of his idea for Tomorrow Never Dies. What resulted was a film for the next generation of conspiracy theorists — a careful examination of the dangers of mass communication. Stay tuned for the day when James must wrest control of the world from an all-powerful technology maven with an affinity for partially-eaten fruit.
For a complete schedule of Tomorrow Never Dies on AMC, click here.
To share your review of the film, click here.
Read More