Where Have All the Inspirational Teacher Movies Gone?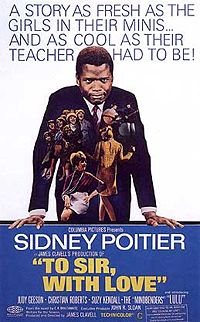 Remember when a single teacher could turn around a whole class of disadvantaged, disaffected youth? In just one school year, those struggling students would be reading at or above grade level, ready to continue on to college — all while dealing with difficult home lives. And in return, the teacher would learn something valuable about his own life, from the kids everybody else had already written off.
There are some films that changed the formula: Dead Poets Society is set at a posh boarding school, not the inner city. In Stand and Deliver and Lean on Me fleshed out the genre Blackboard Jungle and To Sir With Love had started a few decades before.
Sidney Poitier actually played one of those maladjusted youths in Blackboard Jungle and then went on to star as Mark Thackeray, erstwhile teacher in To Sir With Love.
The movie deals with racism, but highlights class issues at the core of
the educational breakdown. Poitier's white East Ender students come
from broken homes and have little ambition for their lives.Through his
tough love and demand that they respect him and themselves, they
gradually gain a wider perspective.
So where are those movies now? In 1995, Mr. Holland's Opus and Dangerous Minds both tackled the inspirational teacher theme, but there's been little seen from the genre since. Last year's Freedom Writers
qualifies to a degree, but since it takes place in 1995, it can't be
considered a recent tale of success. Could it be that all the emphasis
on standardized testing had taken the romance out of teaching?
Struggling against the administration is always a theme in teacher
movies, but struggling against Scantron bubbles and No Child Left
Behind is another feat altogether.
Remember the glory days of the inspirational teacher with Sidney Poitier. For a full schedule of To Sir With Love on AMC, click here.
To share your review, click here.
Read More