Third Party Offerings to Sate Those Hungering for More Horror on the Wii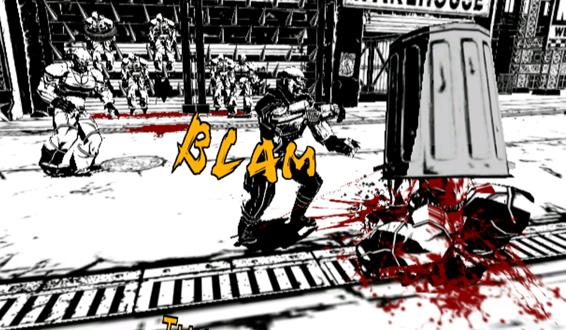 After
the outcry over Nintendo's performance at E3, gamers with a penchant
for anything outside the realm of "family friendly" were left wondering
whether the company would ever return to its
"hardcore" roots. Unfortunately, it seems Nintendo won't be
contributing to the creep-show, but a few choice third-party releases
lurk on the horizon for those that hunger more horror on
the Wii.
With an art style and body count reminiscent of Frank Miller's Sin City , MadWorld
by Platinum Games (a development house comprised of the minds behind Viewtiful Joe and Okami) looks to be the blood-dripping, chainsaw-swinging action many
imagined when they first heard the words "motion control." The
hyper-violent — yet cartoonish — hand to whatever's-at-hand combat
seems perfect for
the Wiimote's waggle. The ultra-stylized, trichromatic
color scheme doesn't push the limits of the Wii, leaving the graphics sharp and clean.
For those with more classic tastes, there's Dead Rising: Chop Till You Drop by Capcom. Dawn of the Dead -esque hack-and-slasher Dead Rising's
debut on the Xbox 360 resulted in resounding squeals of delight from
zombie fans; providing them with just the quick and easy comic violence
analog they'd been looking for. Naturally then, news of Dead Rising: Chop Till You Drop
for the Wii was met with excitement by those entranced by the idea of
beheading a
zombie with a flick of the wrist. One caveat: The stepped down graphics
capabilities of the Wii have necessitated a drastic reduction
in the number of weapons at your disposal and the number of
enemies on screen at a time.
Finally, there's Tecmo's Fatal Frame IV. If its previous incarnations are any indication, this is guaranteed to keep you gaming with
the
light on. News
that the fourth installment of the widely renowned Japanese horror
series will be a Wii exclusive is sure to attract droves of those in
need of another dose of interactive Eastern horror. No North American
release date has been announced for Fatal Frame IV,
but when this mother lode of monstrous delights hits the streets,
Nintendo naysayers will be eating their words.
Read More