The Beast Must Die and Other Movies in Which Michael Gambon May or May Not Be a Werewolf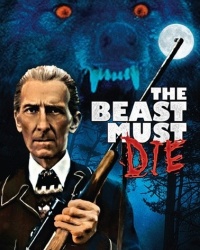 A sort of Clue for the after-midnight set, The Beast Must Die assigns a well-heeled set of party guests (including actor Michael Gambon) the task of figuring out which one of them is a werewolf. Gambon is known for his intensity as an actor, so who's to say wolf blood isn't secretly running through his veins in his other movies? Here are a few possibilities:
• The Cook, the Thief, His Wife, and Her Lover (1989)
In this diabolical classic, Gambon rages through an entire film as Albert Spica, a bestial mobster who insults, humiliates, and abuses every person he comes into contact with, especially his long-suffering wife, played by Helen Mirren. The barely-constrained bloodlust and carnal charm of this character really has me wondering if Mirren's problems couldn't have been solved with a silver bullet — and it would definitely put a strange spin on the cannibalistic final scene.
• Harry Potter and the Prisoner of Azkaban (2004)
Everyone
recalls that it was Professor Lupin who turned into a lean, mean,
werewolfin' machine in the third Harry Potter movie, and there are only
three known werewolves in Rowling's Harry Potter series. But
doesn't Dumbledore look a little… different, this time around? Since
Gambon took the role after the death of Richard Harris, who's to say
that the change didn't have more arcane effects on the character's
transformation? And considering the film's black holes of continuity,
is there any proof that Lupin never laid a tooth on old Dumbledore?
• Mary Reilly (1996)
While it's John Malkovich's hair-raising metamorphosis into Dr. Hyde
that's meant to horrify us, the human monsters of Victorian England
steal the show. As the chambermaid Mary Reilly, Julia Roberts claims
her strange scars are the result of her father (a disgusting and
drunken Gambon) locking her in the cellar with rats when she was a
girl. But if it turned out that he'd bitten her himself, think of what
a better romantic pairing Roberts and Malkovich would be! The idea of a
ghoulish mad scientist strolling through the fog holding hands with a
furry (and very tall) she-beast is worth a sequel or two.
• Brideshead Revisited (2008)
There's really no
sign that Gambon's portrayal of Lord Marchmain in the recent Evelyn
Waugh adaptation hides a ravenous man-eating monster, but pretending
there is might actually keep you awake during its two-hours-plus
running time.
For a complete schedule of The Beast Must Die on AMC, click here.
Read More