Stacie Ponder – Linnea Quigley and Michelle Bauer Aren't Just Scream Queens, They're Horror Icons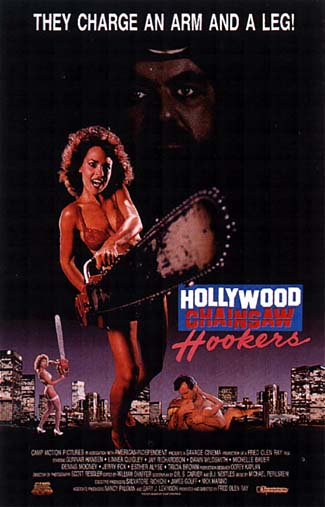 Blogger Stacie Ponder's horror columns appear every Wednesday.
Can you believe that the glorious grindhouse flick Hollywood Chainsaw Hookers is 20 years old? Why, it's almost old enough to purchase alcohol! Most movies we enjoyed in our younger days simply don't hold up under the scrutiny of years passing (I'm looking at you, Caveman ), but fear not: Chainsaw has only gotten better. It's a lot funnier and just a smidge more clever than you'd think. If you've never seen this masterpiece of B-movie sleaze, now's the time to do it: A 20th anniversary edition DVD is being released this week, and it's got a "making of" documentary as well as a commentary track from writer/director/sleazemeister Fred Olen Ray, the man behind other such trash classics as Girl With the Sex-Ray Eyes and Scalps.
For the uninitiated, the plot of Chainsaw is little more than a tale told since time immemorial: Private eye Jack Chandler (Jay Richardson) is on the lookout for a young runaway (Linnea Quigley). During his search, he runs afoul of a cult of chainsaw-wielding hookers (including Michelle Bauer as Mercedes), led by the Stranger (Gunnar Hansen). I mean, these kind of movies aren't simply written. Rather, they spring fully-formed in a cloud of glitter from the minds of angels riding unicorns. Sure, Gunnar "Leatherface" Hansen provides some chainsaw cred to the affair, but it's the Wonder Twin powers of Quigley and Bauer that really send the film into the stratosphere of awesome.
I seriously doubt that there's a horror movie fan on the planet
who's unfamiliar with the oeuvres of these scream queens, especially
when one considers that they've made over 200 movies (and used over 15
alternate names) between the two of them. With careers firmly
entrenched in the realm of the B-grade flick, these two ladies made
'80s horror fun. Whether they were killers, victims, or simply
supplying the requisite pair of boobs, Quigley and Bauer always seemed
to be having a good time. They let us know that sometimes mindless
horror junk is okay, that we should all lighten up once in a while and
enjoy the spectacle… and they certainly have given horror audiences
plenty of spectacle to enjoy over the years.
Linnea Quigley is
perhaps the better-known actress, as she's appeared in a few mainstream
genre films, such as John Landis's vampires-meet-the-mob mashup Innocent Blood , Pumpkinhead II, and A Nightmare on Elm Street 4 . It's safe to say, however, that her most unforgettable work appears in Night of the Demons (see her turn as "Suzanne" once and you'll never feel the same way about lipstick again) and Return of the Living Dead , where she memorably plays punk princess "Trash."
Trash
is an unapologetic exhibitionist, and Quigley goes all out during her
infamous nude dance in Resurrection Cemetery… right before her worst
nightmare comes true and the undead start "biting and eating her
alive." Everybody loves this movie, and everybody loves Trash — Return of the Living Dead
absolutely cemented Quigley's status as a reigning scream queen. She's
fronted a band (The Skirts), she's produced a pseudo-aerobics video (Linnea Quigley's Horror Workout), she's become a staunch animal rights activist, and she's still rocking socks off today in B-movies such as 2008's Spring Break Massacre.
As far as I'm concerned, she's moved beyond the title of "scream queen"
into the realm of "horror icon." They really don't make 'em like Linnea
anymore.
For that matter, they don't make 'em like Michelle Bauer
anymore, either. After a start in adult movies (which, as she claimed
in an interview with Evil Dread,
she always used a double for the…uh, intimate moments) and a stint as
a Penthouse Pet (July '81), Michelle joined the world of the B-movie
after meeting Fred Olen Ray, who cast her in The Tomb (1986). She stayed on the more sleazy side of horror and went on to appear in films such as Vampire Vixens From Venus and Jess Franco's Lust For Frankenstein
as she followed the path to cult scream queen status. After a career
hiatus, Bauer has started making horror movies again, most recently Gingerdead Man 2 — and she's even rumored to be teaming up once more with Fred Olen Ray.
Will their new endeavor be as timeless as Hollywood Chainsaw Hookers? I don't know, who am I, Miss Cleo? All I care about is the right now, man, and right now I've got the urge to watch Chainsaw
again, to marvel at Michelle Bauer's unexpected comedic skills, to
watch Linnea Quigley perform "The Virgin Dance of the Double
Chainsaws", and to watch the two scream queens duke it out with
whirling 'saws. Nope…they just don't make 'em like that anymore.

A fan of horror movies and scary stuff, Stacie Ponder started her blog Final Girl so she'd have a platform from which she could tell everyone that, say, Friday the 13th, Part 2 rules. She leads a glamorous life, walking on the razor's edge of danger and intrigue.
Read More