Site of the Week – SFScope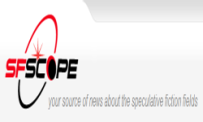 It's not every science fiction (or, in this case, speculative fiction) website that has a direct link to such a giant in the field as Isaac Asimov, but SFScope is lucky enough to boast that pedigree. That's because the site's editor and founder, Ian Randal Strock, started out as the editorial assistant at the science fiction magazines Analog and Asimov's — where he had the privilege of spending time with Asimov once a week every week for the last three years of the author's life (he passed away in 1992). "He was short, nebbishy, unfashionably comfortable, brilliant, completely interested and interesting, and a hell of a lot of fun to be with," Strock relates.
Not surprisingly, Strock counts Asimov among his professional
influences and the written word has been the focus of his career.
That's why SFScope, which hit the web early last year,
includes more news about books, magazines, comics and graphic novels
than it does about films and television. "We shy away from the constant
rumor updates about coming movies," Strock says. "There are so many
other sites already covering that aspect of the field." Instead, when SFScope
does cover the visual media, it tries to feature news that hasn't
already been published in "eleventy dozen other places in the last ten
minutes." So, Strock, who writes as much as 90 percent of the news on
the site, will highlight, for instance, items about books and stories
being made into films (see last week's "Robert A. Heinlein's The Unpleasant Profession of Jonathan Hoag May Become Feature Film").
"I'll talk about them when it seems particularly newsworthy to me,"
notes Strock. He also runs movie, television and book reviews by Sarah
Stegall because he admires her in-depth analyses.
Strock — who will have his first book published this fall, The Presidential Book of Lists — started SFScope
to "deliver the news of the speculative fiction fields in a timely,
accessible fashion." Readership is growing slowly but steadily each
month, currently averaging 15,000 visitors a month. There are between
three and nine new articles each weekday — and what's going to end up
being popular is always difficult to predict. "When I reported on the
impending demise of Weekly World News, I thought it might be
of interest to just a few of our readers," he says. "It was the most
popular article we've ever published — the hits were off the scale."
In short, "I just keep reporting the news, and the readers keep reading
it."
Read More