Site of the Week – Geeks of Doom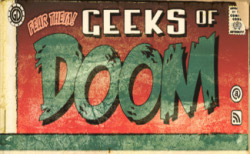 What do geeks do when all the coding's done and they're not on Slashdot or ArsTechnica? Read comics. Watch movies. Play video games. Collect. Attend conventions. Dress up like Spiderman and Dark Phoenix. Gather at Renaissance Fairs and D&D roundtables. "Geeks of Doom cares about all these things," explains Dave Seligman, a founder of the site along with his wife Eve Conte. "Our goal is to embody the entertainment side of a geek's life and our pages are filled with the kind of things you'd see when you go into a geek's room and look on their shelves, on their desk or under their bed."
So, you'll find news on comics, games, movies, music, DVDs, TV
shows, software, tech, books and the theater. Recent features include
"11 Reasons Why I Didn't Completely Hate the Star Wars Prequels," "The Legacy of Universal's Mummy" and "Where Does The Dark Knight
Leave Us?" There are also "Week of Geek" events where stories are
rolled out every day for a week ahead of a big movie release. And
there's the "Tuesday Trades" series, a look at classic graphic novels
like The Sandman and Queen & Country. Expect to
find podcasts ("The Doom Cast") at some point down the line too. Conte,
a book editor by day, provides the copy along with a core group of
contributors who "always make time to feed their inner geek," while
Seligman handles the design. The site, launched in April 2007, now
averages half a million unique visitors a month, up from 2,000 in the
beginning.
Geeks of Doom grew out of the "intense passion for
entertainment" shared by Conte and Seligman. They decided to put their
professional skills to use and "create a place where we could
collaborate to share not only our own thoughts and opinions, but those
of like-minded geeky individuals out there who deserved to be heard,"
Seligman says. He counts Isaac Asimov as a big influence, whereas Conte
became "immediately obsessed" with the the original Star Wars movie when she first saw it and has been a card-carrying member of the Star Wars Fan Club since the release of Return of the Jedi.
As for the site's name — "geek" has traditionally been hurled as an
insult — but "we've never been offended by being called a geek," says
Seligman, whose favorite time of day is when the clock hits 12:34 and
56 seconds. "In recent years, the connotation of geek has changed to
that of a positive nature. Anyone who is a geek is proud of it, so it's
definitely been reclaimed by the geek community," Conte adds. "Geek
culture is becoming more mainstream and more accepted thanks to the
great box office success of so many film adaptations of comic book
properties. But eventually, mainstream audiences will forget about The Dark Knight, yet the true geeks won't ever abandon Batman."
Read More