Scott Sigler – The Girl-Power Vampire Stories Waiting for Their Big Screen Moments
Novelist Scott Sigler's horror column appears every Thursday.
Yes yes yes, Twilight is coming. We've heard. Author Stephenie Meyer has taken that well-trod Anne Rice vampire path to literary stardom, and the first movie from one of her books hits theaters November 21. Did I say well-trod? Why, I did say that. Why? Because it's not like the tortured supernatural romance genre took a siesta between Interview With the Vampire and Twilight.
Supernatural romance where girl falls for beastie ( An American Werewolf in London ); girl is beastie and falls for another (like in Underworld and the upcoming Underworld: Rise of the Lycans); or even girl is beastie and falls for some sappy normal dude (Blood & Chocolate, Ginger Snaps ) always manages to find a home on the big screen.
The genre also has had — and continues to have — a nice hold on television. There is the True Blood series coming up on HBO, based on the novels of Charlaine Harris, Tanya Huff's Blood Ties series running on Lifetime, and we can't forget the Buffinator and her handsome, thirsty suitors. Nor can we forget the endless number of Buffy clones that continue to dominate the bookstore shelves that might be ripe for the pickin' as the next crop of girl-power supernatural flicks.
So if Twilight is a hit, what other book-to-movie vampire stories can we expect? The next big one is …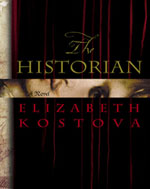 Elizabeth Kostova's The Historian
The Historian
is a big-time bestseller, and is scheduled for a 2010 movie release. It sold 500,000 copies in 2005 alone, the year it was released, and that same year the film rights were optioned for another $2 million. A historical look at Dracula's backstory might not have the same appeal as Twilight or Underworld, but hey, vampires are vampires right? More importantly, this movie has a serious Seinfeld pedigree.
Here is The Historian's movie's tagline from IMDB.com: "A young woman travels through Europe looking for her missing father and battles vampires along the way." And here is the tagline for "Rochelle Rochelle," a famous episode on Seinfeld: "A young girl's strange, erotic journey from Milan to Minsk." Coincidence? I think not! Get the popcorn, Kramer, we're going to the movies
So Twilight and The Historian are the two reigning champions of mega-bestelling books about to be movies. What else to look for on book-to-movie horizon? Based on the bestseller charts, you may want to look for exposed midriffs, stripper tats, and tight pants. (Not that you weren't looking for that already…)
L.A. Banks' Minion and The Awakening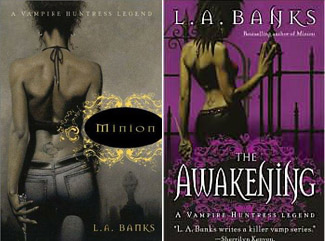 These two novels are in development with PicturePlay, and let's see why — stripper-tat, check! Exposed back, check! Tight pants,
check! We have a winnnahhhh! And how about this rockin' tagline: "In an escalating war between Heaven and Hell, a budding music diva must choose between a normal life and a higher calling as a millennium
slayer." Hey now, it may sound familiar but don't judge — Buffy had to make choices, true, but she was not a budding music diva (unless you count the musical episode, of course). One can only hope they make that stripper tat even bigger when the movie hits.
PC & Kirsten Cast's House of Night Series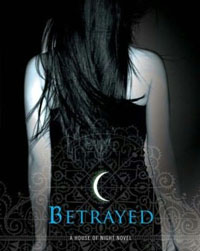 These New York Times bestselling authors just optioned their fiction series to Empire Pictures, producers of John Tucker Must Die , and possibly be the worst move of all time, Bandits . Here's the book/movie synopsis from IMDB.com: "The House of Night series (is) set in the school where young 'marked' students train to become adult vampires." Vamps meet Potter? How can you go wrong with that?
So we've got the butt-shot book-cover, but this one has a little black dress. I suspect there is stripper tat in there somewhere — all part of the girl-power mystique.
Judging a Book By Its Cover
Here's some choice covers from bestselling chick-lit/vampire/romance/werewolf/witch authors that are ripe for the pluckin' as the next big movie. I'm not sure, but you miiiiiiight notice a little pattern here. And yes, these are all from different authors …
The genre may grow bigger movie wings, it may not. Safe to say, a lot rides on the success of Twilight and True Blood. (Huff's Blood Ties series may not be renewed for season three.) Word is The Historian is getting DaVinci Code-esque promotion in 2010, so we can expect some butts in the seats there… And from the looks of things, a lot of those butts will be dressed in leather pants.

Scott Sigler writes tales of hard-science horror, then gives them away as free audiobooks at www.scottsigler.com. His hardcover debut, Infected, is available in stores now. If
you don't agree with what Scott says in this blog, please email him
scott@scottsigler.com. Please include all relevant personal
information, such as your address and what times you are not home, in
case Scott wishes to send someone to "discuss" your opinions.
Read More