Has Hollywood Hijacked Comic-Con?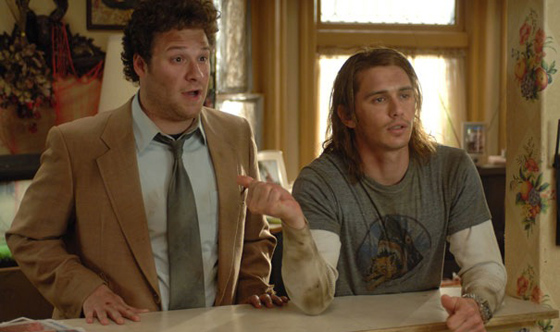 The fact that this week's episode of Shootout is coming to you from the San Diego Comic-Con shows just how much the annual convention has grown. There were no TV shows interviewing movie stars at the original event in 1970; nor was there any discussion among the 300 comic book aficionados in attendance about whether or not their gathering in a hotel basement was too commercial. Times have changed: What was once an intimate geek gathering is now a marketing phenomenon drawing crowds around 130,000.
"It's turned into a maelstrom of activity with studios and games
and videos and Internet and every kind of media possible," says Shootout
co-host, Peter Guber, standing next to Darth Vader, a stormtrooper, and
co-host Peter Bart. "Would you believe all of this started in an
underground garage with kids talking about comic books and how much
they loved them?" says Bart.
Watching a fan dressed as
Spider-man wait in line to get a comic book artist's autograph is a
reminder of the Con's roots. Watching others wait in line to buy a pair
of Zissou sneakers like those worn in The Life Aquatic with Steve Zissou — not so much. And why would the stars of Pineapple Express
be promoting their film at the Con? "Cause Sony sent us here and
because I like comic books," explains Seth Rogen. The actor has also
been cast as the future Green Hornet so maybe his attendance
isn't that much of a stretch. Rogen adds, "We definitely represented
the nerd in a lot of our movies and if there's one thing that's here,
it's that."
Bart sees the tremendous growth and Hollywood's
involvement as a good thing. "The Comic-Conners are downright orgasmic
when they round a corner only to confront a Seth Rogen or Mark
Wahlberg. Or when they spy a studio executive hanging out to find out
what's hip. The dweebs then feel hip!" he wrote on his Variety blog. But not everyone agrees. One reader noted that "Bart writing about SDCC is a sure sign that the event has jumped the shark."
Guber also has concerns that it's original spirit has been hijacked by
big companies fighting for the crowd's attention, "It just seems to be
now the place to be to promote things," he says.
Don't expect that to change anytime soon. Given the success of Iron Man and The Dark Knight,
it's no surprise that there are currently 42 comic book and superhero
movies in production. You can expect to see those at future
conventions. "The greatest thing about it is you have all the fans
here," explains comic legend Stan Lee. "When you screen something here
that the fans see and like, before you know it, it's on every blog in
the Internet."
What do you think? Is bigger better? Is Hollywood
exploiting this market or are Comic-Conners getting exactly what they
want? Comments below.
Read More