Movie Studios Often Give the Cold Shoulder to Alaska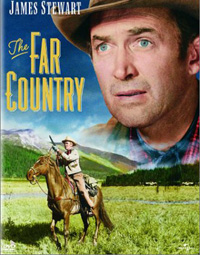 When John Wayne took a journey North to Alaska, the actor actually never left the climes of sunny California. Wayne's gold rush comedy set in Nome, Alaska may be one of the few Westerns to take place in America's 49th state… yet it's also one of the many films set in Alaska then filmed somewhere else.
Another memorable "Alaska" Western, Anthony Mann's classic The Far Country, uses the state's glaciers and history of cattle herding as its backdrop but was actually filmed in Jasper National Park and the Saskatchewan Glacier in Alberta, Canada. Truth be told, our neighbors to the North have often subbed in for Alaska.
The kid epic Mystery, Alaska (1999) was also partially filmed in British Columbia. And what about Snow Dogs? Surely Cuba Gooding Jr. camped it up with those adorable Huskies in picturesque Anchorage, right? Nope, Canada too. (The Snow Dogs team even went so far as to invent the city of Tolketna, Alaska for the film.) But Canada isn't the only stand-in for Alaska. Recently, New Zealand doubled for the frozen state in the horror film 30 Days of Night .
Prohibitive costs and unpredictable weather often prevent film crews from shooting in Alaska, though some filmmakers, such as Sean Penn ( Into the Wild ) and Christopher Nolan ( Insomnia ), have made use of its icy vistas. One infamous movie to actually shoot there — Louis B. Mayer's Eskimo (1933) — was once billed as "the biggest picture ever made." At least for once, someone got it right: Alaska is big.
For a complete schedule of North to Alaska airings on AMC, click here.
Read More