Masters of SciFi – Independent Filmmaker Michael Scott Slams Hollywood's Waste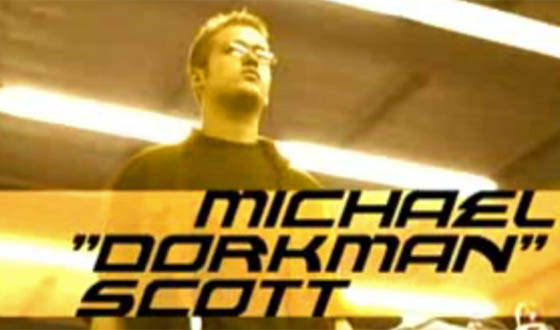 Michael Scott represents the next generation of filmmaker — an everyday fan who parlayed his talent for special effects into YouTube celebrity, and then a professional career. His Star Wars fan films, Ryan vs. Dorkman and its sequel, RvD2, have collectively garnered over 7 million views. Now he and his partner Ryan Wieber are working with some of the biggest names in scifi.

Q: Why did you make Ryan vs. Dorkman?
A: I had never really watched Star Wars growing up, but when The Phantom Menace came out, I just loved the lightsabers — the noise they make and the explosion of light when they come together. Then came this fan film competition on TheForce.net. Ryan and I had developed an antagonistic relationship on the message boards, so when this contest came around, we thought it would be funny if instead of competing via our entries, we competed within an entry. We got together and fought it out for real.
Q: Why did you choose to do a sequel?
A: We were really proud of RvD — it won the competition. And we always wanted to do a second one. When YouTube came out, it got really popular, so we knew there was never going to be a better time. It had been four years since the first and we'd improved our skill-set, if not our talent. So we asked ourselves, "What's the best lightsaber fight we can make now?" and we knew it would be worth doing.
Q: Would you ever make a third?
A: Fans are begging us to make a third one. But the thing is, if we made RvD3, it would really just be "RvD2, Part II." We want to wait for another couple years, where we've gotten some more projects under our belt, done a bit more, experienced a bit more.
Q: You're working on a project for Dark Horse with Ray Park, who played Darth Maul in The Phantom Menace and Toad in X-Men.

A: After we did RvD2, Dark Horse contacted us about The Descendants, a comic book they acquired. [The story has] a lot of
different mythological and theological concepts all stirred up
together, topped with what should be some great action. They already had Ray Park attached — he was looking for a project with a strong role that he could both act in as well as show off his stunts. Dark Horse saw RvD2, and they really liked that it was an action piece and it had a lot of visual effects, so they asked us to co-direct it.
Q: How has the Internet changed the landscape for independent filmmakers?
A: The Internet is so democratic — if you have something that's good, you can get the word of mouth out. Big budget movies are in and out of the theaters so quickly these days, but with the Internet that's not a concern because there aren't studios and distributors ripping it down when it's not pulling its weight. Ryan vs. Dorkman was floating around for three years before everyone noticed. You discover your film has a niche audience, then you discover the niche is bigger than you would think.
Q: You've also proven what can be done with a limited budget.

A: I think ultimately there's just a lot of waste in the Hollywood system. There are a lot of people who spend money because they can't come up with a better way to do it. Filmmakers need to be thinking in terms of limitations: What do I need to do to tell the story elegantly without spending a lot of money? In most cases, the less you show, the more interesting it is.
Read More