John Scalzi – Do Hugo Winning Novels Make Great Films?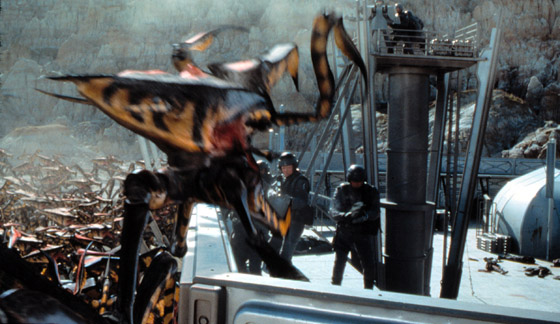 For fans of written science fiction, this week is the equivalent of the Oscars and Mardi Gras all rolled into one, because this is the week of the World Science Fiction Convention (generally known as "Worldcon"), which takes place this year in Denver. Earlier in the week, geeks from around the world converged on the Mile High City, and as you read this, they are partying their brains out. The big event of the Worldcon comes Saturday night, however, when the Hugo Awards, honoring the best in science fiction and fantasy in the last year, are announced.
While there are a number of Hugo Awards, the big award of the night is usually Best Novel. This year the books nominated for the award are The Yiddish Policemen's Union, by Michael Chabon; Brasyl, by Ian McDonald; Rollback, by Robert J. Sawyer; Halting State, by Charles Stross; and The Last Colony, by, uh, well, me. Whichever of us wins gets to be King of the Geeks for the year, which is nice, but as an aside, it also brings higher visibility to the novel in question, which can lead to bigger sales, more time on the shelves, and from time to time, a crack at seeing that book turned into a movie.
And that brings us to an interesting question. The Hugo Awards represent the finest in written science fiction and fantasy. But do the films made from Best Novel Hugo winners represent the same, in cinematic form? Let's go to the list and see.
Interestingly, it's a short list: Despite more than 50 years of Best Novel Hugo winners, a quick scan of the list
shows that only three of the Best Novel winners have successfully made
the jump to the silver screen*. Moving along chronologically, they are:
1. Starship Troopers , 1997 (Best Novel Winner, 1960): Things get off to a bad foot right off with Starship Troopers,
which should be otherwise known as "The Film Most Likely to Set
Hardcore Science Fiction Fans Into a Spasm." The Robert Heinlein book
on which the movie was made is heavy on the philosophical matters of a
young military volunteer figuring out what his responsibilities are to
humanity; the movie, on the other hand, is about pretty actors blowing
up truck-sized CGI bugs. Taken strictly on its own terms, the movie is
actually a whole lot of mindless, campy fun: You can tell it's from the
same brain as the people who wrote and directed Robocop (Ed Neumier and Paul Verhoeven, respectively). But as an adaptation of the book, it's fairly atrocious.
2. Dune , 1984
(Best Novel Winner, 1966): Frank Herbert's novel is a massive,
intricately-written tome about interstellar politics, religious war,
planetary ecologies and people spending a lot of time talking to
themselves inside their heads. Director David Lynch wanted to honor all
of this, but at the same time, he also wanted add his own
grotesque-leaning visual touches, from covering bad guy Baron Harkonnen
in festering boils to including rocker Sting, loopy-eyed, in the
universe's most uncomfortable Speedo. The film was so hard to follow
that when it was released, Universal Pictures sent theaters a flyer to
hand out to filmgoers to explain what was going on. The movie was
generally panned by critics, and later, Lynch himself distanced himself
from it, saying "I started selling out on Dune. Looking back, it's no one's fault but my own." It's good he owns up to that.
3. Harry Potter and the Goblet of Fire , 2005 (Best Novel Winner, 2001): Goblet of Fire
was a somewhat controversial Best Novel winner among science fiction
and fantasy fans (you will still hear many of them grumble that George
RR Martin's Storm of Swords was denied its rightful prize),
but one thing that is true is that the film adaptation of J.K.
Rowling's fourth book in the Harry Potter series is easily the best of
this trio. It's reasonably faithful to its source material, due likely
to the involvement of Rowling herself in the production, and the
awareness of the filmmakers that to mess with Harry, would be to risk a
pummeling by millions of screaming pre-teens wielding thick hardcover
books. As a film it works nicely, is well put-together and was
generally well-received: A big hit in theaters, of course, but the
critics mostly liked it as well. Great art? No. Good movie? Sure.
Of course, each film has its partisans, but the general shakeup of
things has one Best Novel-derived film actually regarded as good. Is
this surprising? Not really; remember that in general, Hollywood has its ups and downs adapting most books into film
(and in adapting plays into films, and adapting TV series, and adapting
other films into remakes, etc.), and there's no reason why Hugo winners
should escape this.
At the moment, several other Hugo Best Novel winners are reportedly in development as films, including Orson Scott Card's Ender's Game, Dan Simmons' Hyperion, and Arthur C. Clarke's Rendezvous with Rama.
Will these films — if they are made at all — live up to the
award-winning status of their source material? Well, at the very least,
we can hope so. Hoping is not too much to ask.
* Before anyone points it out, Ray Bradbury's novel Fahrenheit 451 won a "Retro Hugo" in 2004, because Hugo weren't awarded in 1954, the year the novel came out. A film version came in 1967 ,
directed by François Truffaut. However, clearly, the movie came out
while the book wasn't a Hugo winner, if that makes any sort of sense.

Winner of the John W. Campbell Award for Best New Writer, John Scalzi is the author of The Rough Guide to Sci-Fi Movies as well as the novels Old Man's War and the upcoming Zoe's Tale. His column appears every Thursday.
Read More