Is the Sky Falling on Independent Film?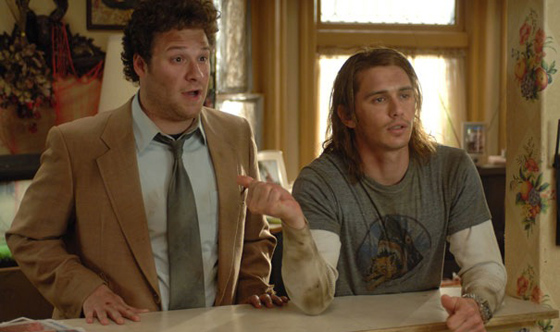 Audiences and filmmakers are excited about the start of the festival season but, sadly, distributors are not. Warner Bros. recently closed its Picturehouse and Warner Independent specialty divisions and Paramount Vantage folded into its parent company, Paramount Pictures. The specialty film business, or at least, studio participation in it, is dying.
It's not hard to see why when you read Variety's "Specialty films see rising costs." Notice it's not called, "Specialty films see rising profits." Box office totals for 2008 films from the studio-owned art house divisions totaled $161 million to date, down from $330 million in 2007 and $418 million in 2006. "Ain't no one taking a risk these days," says Shootout co-host Peter Bart. "You're seeing the big blockbusters, but the interesting spectrum of independent films you used to see — they're not there anymore."
Studios spending too much to make these films is only part of the
problem. The cost to market them rose nearly 70% from 2006 to 2007. Are
the days when a movie financed on credit cards, filmed in New Jersey
and starring no-name actors can end up with a big screen distribution
deal over? Miramax showed Clerks on a small number of screens, but still, it was something. And it was successful.
"The
whole deal with independent films is, going back to the old Harvey
Weinstein and Bob Weinstein model, you take a chance," explains Bart.
"These pictures don't present themselves fully blown. You gotta gamble
with them." Shootout co-host Peter Guber agrees the model is
broken. "Flatulence driven, noisy, testosterone, stoner films can't be
the only audience that should be served," he adds, likely in reference
to those enjoying Sony's current offering, Pineapple Express.
Some
say it's the filmmakers fault; there aren't any independent voices
worthy of distribution right now. But do you really trust studios to
make that call? And while Guber suggests new media and Internet
distribution could solve the problem, the artist has no control with
exactly how the film ends up being seen. "Are audiences watching films
on a PDA, in a four-inch browser window, on a laptop with poor
resolution, or syncing the film to a big-screen TV?" writes festival
guru Christian Gaines in Variety. "Are films being watched uninterrupted from beginning to end, or is it being paused numerous times, watched in bits and pieces?"
How
can niche audiences connect with the independent films they want to
see? Can independent artists survive without the big screen or should
Tarantino consider himself lucky he made Reservoir Dogs when he did? Comments below.
Read More