Thanks to Funny Glasses, John Wayne Literally Leaps From the Screen in Hondo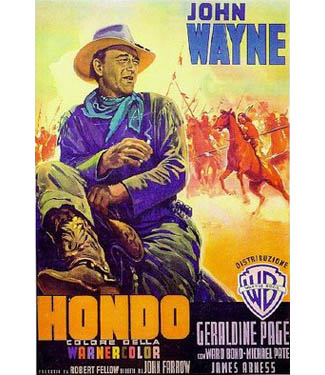 In the pantheon of classic Westerns, there's only one hailed by Married With Children's resident couch cowboy Al Bundy as "the greatest film ever." Praised by critics — both real and fictional — John Wayne's Hondo happens to be one of the Duke's better Westerns without his steady sidekick John Ford. But how could an epic steeped in selfless heroism have resulted in eyestrain-induced headaches for most of its audience? Through the magic of 3D, of course.
It's a little known fact that Hondo was a willing and eager participant in an ill-fated 3D venture of the 1950s. Anxious to compete with television, movie studios foisted the artistically suspect gimmick onto unsuspecting audiences. While young theatergoers pawed at the screen, their helpless parents wandered the theater lobby in search of Aspirin.
More surprising than the technology's ill effects on the eyes was the number of prestige pictures it managed to wrangle. Among those plunging into the cyan- and magenta-tinged waters were Alfred Hitchcock's Dial
M for Murder and Vincent Price's House of Wax . The musical comedy Money From Home enabled the king of spastic slapstick, Jerry Lewis, to really get into his audience's face. Is it any wonder the craze died out?
Fortunately for these films, however, time has proven they needed no such visual boost. One viewing of Hondo shows that Wayne's presence on the silver screen was absolute — in 2-, 3-, or any D.
For a full schedule of Hondo on AMC, click here.
Read More