The Success of GoldenEye Is So Much More Than Pierce Brosnan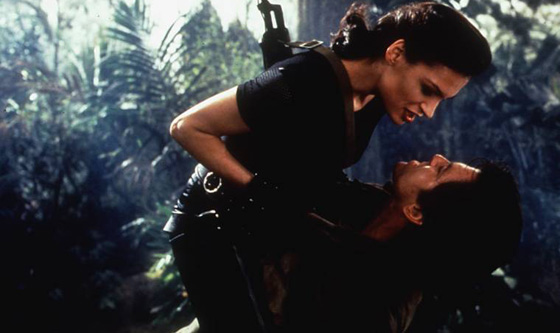 GoldenEye boasts a lot of firsts: the first appearance of Pierce Brosnan as James Bond, the first female M (Dame Judi Dench), the first Bond film with a non-Ian Fleming inspired plot, etc. But there was also a significant "last" looming over the movie — it was the last chance for Bond to score a hit, or there might have been no more Bond movies, ever.
The previous Bond film, License to Kill , had been released in 1989 to underwhelming box office receipts and a critical savaging. Not only that, but longtime producer MGM/UA had been sold, leading to several years of legal disputes involving the acquisition/merger, and the ownership and distribution of the Bond series.
And then, of course, there was the fall of the Wall. On November 9, 1989, the Berlin Wall came down, and with it, the end of the Cold War. Bond, who had made his bread and butter fighting Russian spies, was without an enemy, without a plot. For the first time in almost 40 years, it looked like the number 007 would be retired.
So how did Bond come back, and stronger than ever? First of all, new blood was injected into the production team. Longtime producer Albert Broccoli, in failing health, took a back seat, thereby leaving his daughter Barbara Broccoli, and Michael G. Wilson in control of GoldenEye. Director Martin Campbell, was brought in, although he had but a few features to his credit. His tight direction led him to a successful reinvention of the Bond series, one so successful, he was again called upon for 2006's Casino Royale . And Brosnan, who had been waiting in the wings, was finally able to take on the mantle as a younger, fresher Bond.
The most important element, of course, was moving Bond beyond his Cold War roots, and for that, the screenwriters (Jeffrey Caine and Bruce Feirstein) chose to specifically play with the audiences expectations. Rather then devising a new enemy, the bad guys in GoldenEye were designed to be relics, holding on to the Soviet regime with all their might.
The approach worked. GoldenEye was the most successful Bond film since Moonraker , charming both audiences and critics, and guaranteed the series would continue.
For a full schedule of GoldenEye on AMC, click here.
To share your review of the movie, click here.
Read More