Escapes That Eclipsed McQueen's Great Escape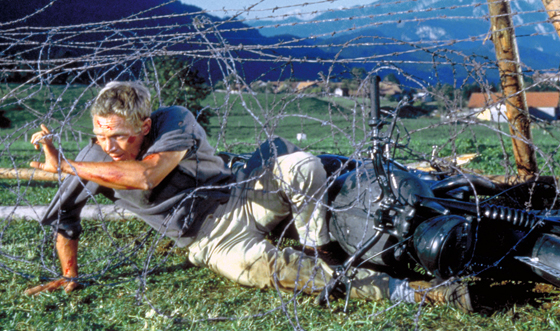 The Great Escape is widely celebrated for the ingenuity and feats of derring-do from the Cooler King, the Scrounger, Big X and the other prisoners of war, but the movie's title is a misnomer. After all, the "great" escape ultimately failed (unless you count the three, out of 70, that weren't recaptured or gunned down by Nazis). Herewith some movies with even greater escapes — the ones where everyone actually made it. (Spoilers ahead!)
The Sound of Music (1965)
Singing your way to freedom may seem like a novel means of escape, but,
face it, "So Long, Farewell" and "Edelweiss" were very effective for
the von Trapps, more so than the motorbike escapades of Steve McQueen.
Of course, they couldn't have done it without the help of Max and the
nuns — even though Rolf turned into a Nazi and almost messed
everything up.
Stalag 17 (1953)
It's the greatest non-singing escape movie set during World War II.
It's hard to resist William Holden's Oscar-winning turn, especially
when he offers a final sally — "Just one more word. If I ever run into
any of you bums on the street corner, just let's pretend we never met
before" — climbs down, mock-salutes and sticks a lighted cigar in his
mouth. And they say Steve McQueen was cool.
The Shawshank Redemption (1994)
Patience is a virtue. That's what Tim Robbins' Andy Dufresne teaches
us. Take nearly 20 years' worth of patience, a rock hammer "damn near
worn down to the nub," and Raquel Welch circa One Million Years B.C. — and you've got the ingredients for a triumphant prison break.
Escape from Alcatraz (1979)
It's possible this wasn't an entirely successful escape, but we'll
never know. Real-life prisoners Frank Morris (played by Clint Eastwood)
and the Anglin brothers used patience and ingenuity to flee the Rock,
though the film is ambiguous about whether the trio died after escaping
or made it out alive. History says the three drowned… but their
bodies have never been found.
Cast Away (2000)
Tom Hanks' Robinson Crusoe figure isn't battling Nazis or prison guards
but the equally formidable duo of Mother Nature and geography. Sure,
this film is more about survival than escape… and the scenes on the
island are more compelling than life back in "civilization," but with a
seaworthy raft and a passing cargo ship to help, escape he does.
For a complete schedule of The Great Escape on AMC, click here.
Read More