Daily Scan: 08.18.08 – Overlooked Star Wars Characters, A Xenomorph vs. Predator Chess Set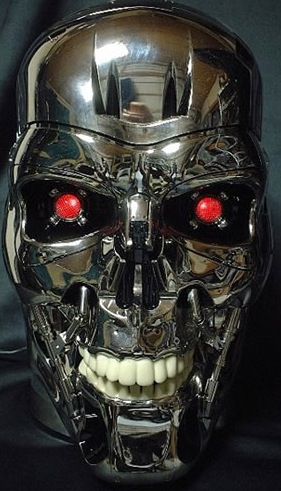 • The Terminator skull DVD player is nifty, but given its lack of Blu-Ray, seems to indicate that Sony will not win the high-def format wars before Judgement Day.
• The future of warfare, retro style. Hovercars and rocket men!
• Luridly gorgeous tin retro robot toys.
• SF Signal gives an overview of all the Star Wars games currently in production. The real one I'm looking forward to is Bioware's MMORPG based on the Knights of the Old Republic universe, which is Star Wars thousands of years before The Phantom Menace.
• Maxim lists the unsung heroes of Star Wars, which features a surprising amount of details on all the ancillary background characters in the films.
• Warner Bros. spurts out new Watchmen images.
• Incredible Hulk scribe Zak Penn will write the remake of Jason and the Argonauts. I'm skeptical unless stop-motion skeletons are ponied up.
• A Death Star floats over San Francisco as one talented cameraman digitally imposes Star Wars effects on SF's recent Imperial Week.
• A Xenomorph vs. Predator chess set to absolutely kill for. Checkmate = Face Hugged.
• And if that's not enough for you to break out the old opening books, check out this wonderful Star Wars LEGO chess set.
Read More