Mrs. Doubtfire or Nathan Lane's Starina? Who's the Most Convincing Cross-dressing Star?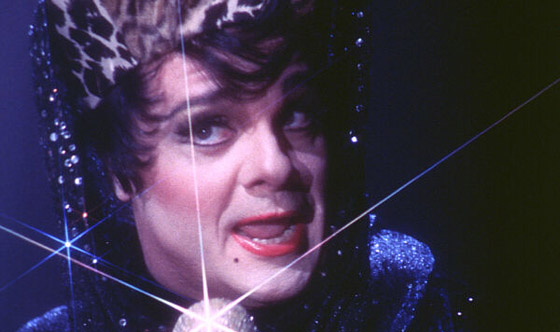 Cross-dressing is a time-honored plot convention, and The Birdcage is no exception — not a surprise, considering one character owns a gay nightclub in Miami's South Beach rife with drag queens. But how well do the famous movie cross-dressers out there actually pull off the act?
In The Birdcage alone, there are two stellar examples: Nathan Lane's turn as the drag queen Starina and Gene Hackman's Senator Keeley. Lane is very convincing; his Starina sports leopard-print accessories including a giant muff, a drapey veil-like styling vaguely reminiscent of the Middle Ages and an elegant and well-practiced air. Hackman's Senator Keeley doesn't look so pretty in his white-blonde wig, sparkly white dress and heavy-handed make-up, but as an ultraconservative politician uncomfortable with being dressed in women's clothes, he's thoroughly convincing.
Robin Williams doesn't appear in drag in The Birdcage, but, of course, Mrs. Doubtfire is one of his most famous roles. Courtesy of Uncle Frank (Harvey Fierstein), Aunt Jack (Scott Capurro) and the expansive use of latex, Williams' Daniel Hillard is transformed into the best imitation of the English nanny since Mary Poppins, albeit one more handsome than beautiful. With "her" sturdy figure, voluminous cardigan, granny glasses and lightly waved hair, Williams' Doubtfire was very nearly perfect — as Uncle Frank says, "Any closer and you'd be Mom."
Flamboyant is the word for Hugo Weaving, Guy Pearce and Terence Stamp's characters in The Adventures of Priscilla, Queen of the Desert. How about those overdone wigs, heavy heavy make-up, the fringes, the feathers, the primary colors? The flamboyance seems entirely appropriate for this crew, whether it's performing in a club or in the middle of the outback. And you must appreciate their rendition of "I Will Survive" performed with a didgeridoo.
And let's not forget Tony Curtis and Jack Lemmon in Some Like It Hot, as Joe and Jerry, aka Josephine and Daphne. Maybe because Curtis was more of a pretty boy than Lemmon, his Josephine has a more feminine quality than Lemmon's Daphne. Nevertheless, the two take to the high heels, dresses and cloches with abandon — they're too manly to make the most convincing women, but still they're hilarious in their girly-ness.
For a full schedule of The Birdcage on AMC, click here.
Read More