Classic Ten – Sports Movies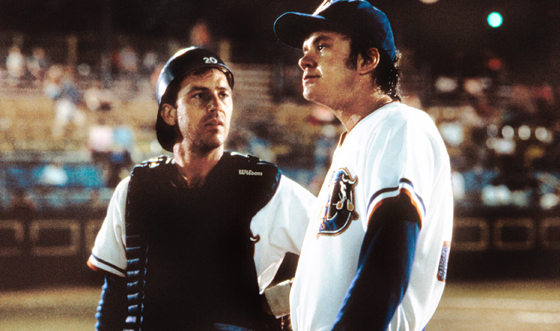 The fresh cut grass of a playing field. The thrill of a last second shot, the late inning home run, or that improbable touchdown run. With a bottomless supply of stories, heroes and dramatic comebacks to mine from, sports films play on our love of the perseverance, team work, and miracles. Here are the best of cinema's jockbeat:

10. Caddyshack (1980)
Slapstick and irreverence overthrow the genteel and traditional sport of golf in the comedy classic Caddyshack. With Chevy Chase as a philosophy-spouting trick shot-nailing ladies' man, Rodney Dangerfield as a cigar-chomping vulgarian with a golf club bag fitted with a radio, and Bill Murray as a slightly touched gopher-hunting groundskeeper, it's one of the highlights of '80s low brow humor, and one of the only examples of golf actually being fun.
9. Breaking Away (1979)
The title's declaration of independence is taken up by Dennis Christopher as an Italiophile bicycling whiz who proves he and his pals aren't layabout townies: His rag-tag racing team narrowly beats the front-runner university boys who constitute their chief nemesis. Another sports movie victory for the little guy, but here in an unmatched combination of wily pluck and unabashed Americana.
8. White Men Can't Jump (1992)
The story of two basketball hustlers who team up to scam players, and each other, on the street courts of Venice Beach, White Men Can't Jump is also an honest and funny look at sports rivalry, cooperation, and one-upmanship, fueled by the ribald comic chemistry of Wesley Snipes and Woody Harrelson. The pair also rock some pretty sweet moves at the hoop.
7. Chariots of Fire (1981)
How
did a modest British film about two runners preparing for and then
conquering the 1924 Olympics and starring mostly unknowns win Best
Picture and three other Acadmey Awards at the 1981 Oscars ceremony?
Like its subjects, who must overcome class and religious prejudice in
order to fulfill their dreams, Chariots of Fire outran the competition by sheer determination and heart, with some help from its sweeping theme song by Vangelis.

6. Rocky (1976)
Full
of iconic set pieces like Rocky running up the steps of the
Philadelphia Museum of Art, the character's "million-to-one shot" tale
was echoed by the box office success of the film itself, which came out
of virtually nowhere to make Sylvester Stallone a superstar and win the
Academy Award for Best Picture.
5. Major League (1989)
The Bad News Bears of adult sports movies, Major League
features a team of lovable losers coming together to win it all and
prevent a scheming owner from moving the cellar-dwelling team to
Florida. An actual sports comedy that contains jokes and a believable
underdog story, it's buttressed by real life Brewers announcer Bob
Uecker's oft-imitated commentary: "Juuuuuuuuust a bit outside."

4. Rudy (1993)
The
real life story of Daniel "Rudy" Ruettiger (Sean Astin), the "5 foot
nothin', 100 and nothin'" with "barely a speck of athletic ability"
whose lifelong dream of playing for the University of Notre Dame's
famous Fighting Irish comes true after years of hard work, diligence
and an unwavering desire to succeed. The most inspirational of sports
movies, the final scene of Rudy's moment of on-field triumph that never
fails to leave audiences in tears.
3. Bull Durham (1988)
A baseball movie that manages to be romantic, dramatic and comical without running through a minefield of clichés, Bull Durham
impresses twenty years after its initial release for its clear-eyed
view of the small thrills of minor league ball: Experienced, spiritual
groupies, hardened veteran catchers, and grown men sliding and flopping
around the field during a rain out. It's also a beautiful love story
structured around a perfectly configured triangle between Kevin
Costner, Susan Sarandon, and Tim Robbins.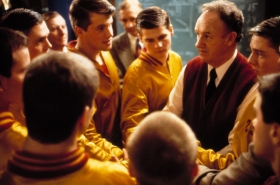 2. Hoosiers (1986)
Taking
America's love affair with and nostalgia for 1950s Midwestern,
small-town high school basketball and translating it into a winning
formula for movie magic, Hoosiers remains the essential
underdog-led-by-embattled-coach sports movie. Gene Hackman plays the
redemption-seeking skipper in charge of Hickory High's improbable run
for glory, and his in-game motivational speech ("I don't care what the
scoreboard says, at the end of the game we're going to be winners!") is
still the most rousing among the genre's pumped-up monologues.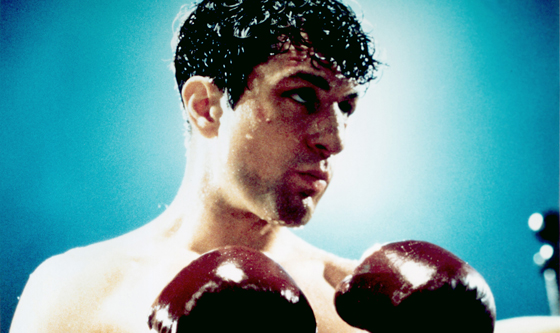 1. Raging Bull (1980)
Martin
Scorsese's masterpiece, and the most complex, unsentimental portrait of
sports machismo ever put to the screen. Robert De Niro stars in a
riveting, lived-in performance as Jake La Motta, a middleweight boxing
champion who rises and falls according to his insatiable jealousy and
violence, especially as directed at young wife Cathy Moriarty, whom he
suspects has had an affair with manager/brother Joe Pesci. Based on La
Motta's life story, Bull counters the romantic glory of the typical sports movie with a legend that's all too human.
What's your favorite sports movie?

Read More