Classic Ten – Political Movies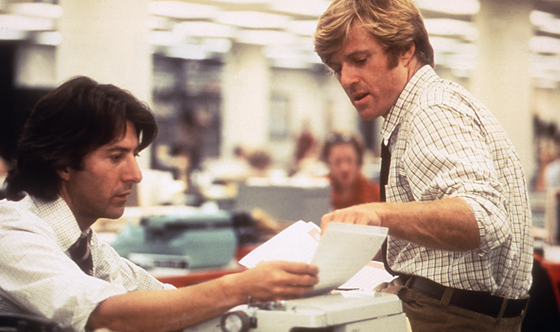 With the Democratic and Republican national conventions beginning this week and next, what better time to take a look at the political movies that have become a part of our popular imagination? Critique, parody or paean, the ones listed here most explicitly bring to light the governmental process of the United States. And in some cases, they might be more famliar than the real events they refer to…
10. Bob Roberts (1992)
Tim Robbins directs and stars in this mockumentary about a sort of Bob Dylan from hell who runs for Senate on a platform of pro-big business, pro-family values, and anti-welfare. Scheming to the point of manufacturing a fake assassination attempt on his own life in order to win sympathy, Roberts symbolizes all that is phony, cynical, and corrupt about politics in a world where image is everything.
9. Wag the Dog (1997)
Dustin Hoffman plays a Robert Evans-like big shot producer hired by Robert DeNiro's PR man to concoct a fake war, in order to divert attention away from a philandering commander-in-chief. Wag the Dog's satire of Operation Desert Storm, the first "CNN War," and its impact more as a media event than an actual one, took on eerie similarities to the Clinton-Lewinsky situation. And in light of "Mission Accomplished," it still resonates.
8. Secret Honor (1984)
Robert Altman's film version of the stage play by Donald Freed and Arnold M. Stone is composed of a single hour-and-a-half monologue by none other than disgraced former president Richard Nixon himself, as played by Philip Baker Hall. Revealing Nixon's egotism, cynicism, paranoia, and self-pity, Secret Honor skewers Tricky Dick while at the same time, uncovering the human side we so easily forgot about.

7. JFK (1991)
Oliver Stone's epic about New Orleans DA Jim Garrison's investigation of a possible conspiracy behind the assassination of President Kennedy was released under a cloud of controversy: For distorting the historical record, for making a hero out of reviled Garrison, and for reviving the JFK conspiracy industry. Questions of accuracy aside, it's still a mesmerizing piece of popular culture that succeeds in entertaining the public while also challenging it.
6. The Manchurian Candidate (1962)
John Frankenheimer's pulpy conspiracy thriller, based on the Richard Condon novel, put a witty, incisive twist on Cold War paranoia (spoilers ahead!). James Gregory's Communist-baiting McCarthyesque senator turns out to be the the puppet of Soviet and North Korean forces, led in America by a deliciously evil Angela Lansbury as the politician's wife. A still-relevant denunciation of hypocritical scare tactics, and a great yarn involving Frank Sinatra's uncovering a mind-control assassination plot.

5. Bulworth (1998)
Writer, director, and star Warren Beatty's brief flirtation with the idea of running for public office in 2000 (as Democratic presidential candidate, no less) was echoed by Bulworth's satire of politcial spin-doctoring. Beatty plays the aptly named Senator, a fallen liberal who takes out a large life insurance policy and pays to have himself assassinated. With nothing to lose, Bulworth goes off on literal (i.e. hip-hop) raps on the real state of the union. The far-fetched premise is probably what it would actually take for a modern day Senator to say something off script.
4. Duck Soup (1933)
The ultimate spoof on how moronic politics lead to unnecessary war, the Marx Brothers' masterpiece is one of the few films to place slapstick on an equal level with political satire and succeed. Groucho, Chico, Harpo, and Zeppo bring the nation of Freedonia to war through diplomacy-by-way-of-insult, and mock the cowardice of leaders who flimsily sound the battle cry: "And remember, while you're out there risking life and limb through shot and shell, we'll be in here thinking what a sucker you are."
3. The Candidate (1972)
An astute portrait of the slow-burn insidiousness of the American political machine, The Candidate takes Robert Redford's reluctant but idealist Senate hopeful and puts him through the media ringer until he becomes a shell of his former unabashed, underdog-championing self. Trading substance for style and issues for image, Redford's ultimately disillusioned anti-hero serves as a warning for political sell-outs and a critique of politics as a continual game of soul-selling compromise.
2. Mr. Smith Goes to Washington (1939)
The second collaboration between populist director Frank Capra and everyman icon James Stewart made the latter a star as a small-town rube who lands in the U.S. Senate by sheer chance. But Stewart's idealistic plans for the government to fund a national boys' camp is taken advantage of by House representatives who wish to make him their patsy for their selfish schemes. In typical Capra fashion, and in the spirit of FDR's America, the good intentions of the individual are enough to triumph and keep malevolent forces from exploiting democracy.
1. All the President's Men (1976)
Less than two years after President Nixon's resignation, Alan Pakula's All the President's Men, immortalized investigative reporters Bob Woodward and Carl Bernstein's role in history for the big screen. What might have been a too-soon dramatization of the Watergate scandal was made a tense, exciting peak behind the scenes of Beltway journalism with the help of Robert Redford and Dustin Hoffman as the driven reporters who "follow the money."
What's your favorite political movie?

Read More