In Christina Milian, Be Cool Producers Found a Performer Who Could Act and Sing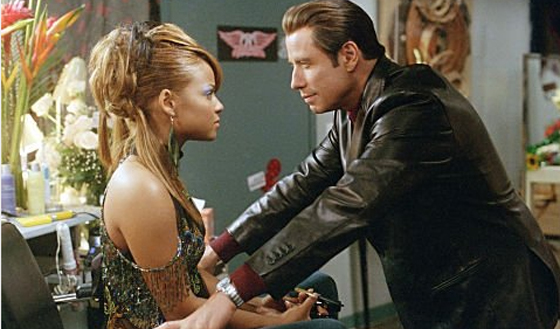 From Doris Day to Beyonce Knowles, there is a long Hollywood tradition of actors and musicians crossing back and forth into each other's realms. And while it's been the rage these past few years to grant starlets their own vanity recording projects — Lindsay Lohan, Paris Hilton — for the part of spunky young singer Linda Moon in Be Cool, the object of Chili Palmer's (John Travolta) professional affection, the producers sought out a spunky young actress who could actually sing, Christina Milian.
A show business veteran who made her television debut on Sister, Sister
at fifteen, Milian provided guest vocals on Ja Rule's 2000 track, "Between
Me and You," and co-wrote "Play," for Jennifer Lopez. While once it was
commonplace for professional singers to loan their voices to movie stars
(as was the case with Marni Nixon, who contributed to The King and I and West Side Story ), the producers of Be Cool
were better served finding a true hyphenate: One scene required the
actress-singer to perform with Aerosmith, a prospect
that had the seasoned performer shaking in her boots before hand.
At
work now on her fourth album, Milian also has a movie coming out
with Matthew McConaughey next year. Here's hoping her crossover career
ends up more like Jennifer Hudson's and less like Lohan's.
Click here for a complete schedule of Be Cool on AMC.
Click here to share your review of the movie.
Read More