Uncategorized
With M*A*S*H, Elliott Gould Defined a Comedic Generation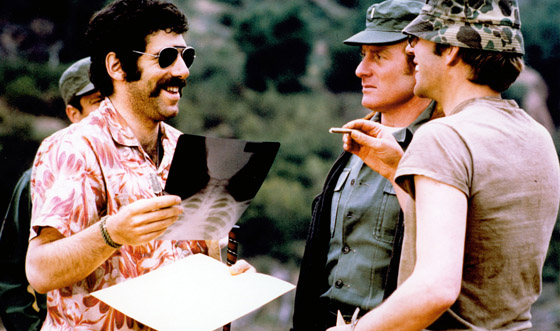 M*A*S*H, Elliott Gould Defined a Comedic Generation" width="560″/>

Without Elliott Gould, would there be a Seth Rogen? Or a John Cusack? In classics like Bob & Carol & Ted & Alice , The Long Goodbye , and M*A*S*H, Gould defined the snarky leading man persona of the 1970s: An average-guy with razor sharp comedic timing.
It was in the subversive comedy classic M*A*S*H that the actor
began his fruitful collaboration with the director Robert Altman. Recalls
Gould about working with the late director, "Bob gave me so much room
to invent and to create and to experiment with behavior." Nowhere is
this more apparent than in M*A*S*H's Trapper John, perhaps
Gould's most indelible role. Altman's improvisational style and
overlapping dialogue complemented Gould's laid back charm; the
influence of his back-and-forth with Donald Sutherland is still evident
today — just check out any of Judd Apatow's improv-heavy films.
Altman and Gould were equally simpatico on The Long Goodbye,
updating the Philip Marlowe character (portrayed by Humphrey Bogart,
among others) to 1970s California. Gould forever left his stamp on the
character, bringing his own persona to the character as well as
portraying him as a man out of step with modern times. Gould claims he
found inspiration for the role in, "life, liberty, and in the pursuit
of happiness, and my family and children, and — of course — Bogart
didn't hurt." Of all his movies, "The Long Goodbye" was my favorite
for quite some time," recalls the actor.
In recent years, Gould's comedic skills have been put to good use in the Ocean's Eleven films as well as on Friends. Gould calls the Ocean's
trilogy "a joy to participate in" adding, "we were all happy that
the audiences embraced us." Gould credits Robert Altman, Ingmar
Bergman, Paul Mazursky, and "my son, Jason Gould" for being inspirations
on his storied career. But it's his collaborations with Altman which we
always remember and the actor concurs. "He gave me more freedom then I
could hope for, and I'll always be grateful for the opportunities he
gave me," Gould says. "There was no one else like him."
Elliott Gould Star for an Uptight Age, runs at BAM Aug.1-21.
For a full schedule of M*A*S*H on AMC, click here.
Read More