The Star of 1958's The Fly Has High Hopes for Cronenberg's New Opera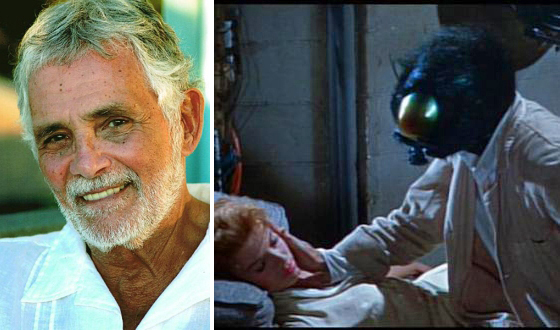 The Fly Has High Hopes for Cronenberg's New Opera" width="560″/>
News that David Cronenberg was debuting an opera version of stirred up a lot of feelings among movie fans , including dread. In my book, the only opinion that matters about The Fly: The Opera is that of David Hedison, the actor who was already sporting compound eyes when Jeff Goldblum was in grade school. On the cusp of his film's 50th anniversary, how does the 81-year-old star think this will affect The Fly's legacy?
"Even back then, I thought the story would play well on stage," claims Hedison. He points out that the opera is adapted from Cronenberg's 1986 film , though it's obvious from the website that they've drawn plenty of stylistic inspiration from 1958. Either way, Hedison couldn't be more pleased: "I'm feeling very positive about the whole experience. I'm a huge admirer of David Cronenberg's work and I'm sure he's going to do something terribly interesting with the opera. It's too bad Jeff Goldblum can't sing!"
When Hedison first considered the role of scientist Andre Delambre, it was the character's faith in science that called to him. "When I read the script, I believed it," he recalls. "It wasn't something from outer space, or aliens invading the earth. It was just a story that made sense to me. When you think of the good the invention could do the world — bringing food to places just by transporting it this way — it seemed very exciting and real. So I tried to make it as real as possible when I did it." He remembers his post-transformation scenes very fondly. "There was like a little pinhole, so I was able to see quite a bit, though I was still really striving for awkward movement… There was no stuntman on that film, so I did everything myself, and I totally enjoyed it. In fact, my best acting was under the cloth."
The Fly was a monster hit in its day; Hedison recalls
returning from a film shoot in England after its release, and being
caught off guard by the recognition he received. "When I came back I
couldn't stop on a street corner without hearing someone shouting out a
car window, 'Helllp meeeeeee!'" he laughs. "I got a lot of 'help me's'
during that period." And yet, that iconic high-pitched scream is the
one thing that he'd change about the film. "I remember being really
horrified by the spider and I screamed my lungs out. I was told
afterward that it was very effective," he says. "When I saw the film, I
was surprised that they'd cranked it up and given it that high-pitched
quality; I always felt it would have been better if they'd left my
voice in and minimized the sound of it."
The film's effects and storyline have held up incredibly well,
though modern audiences might be surprised by the cavalier portrayal of
animal experimentation; the sight of Hedison zapping guinea pigs and
even obliterating the family cat with his contraption isn't for the
squeamish. "It was an edgy decision, but (my character) believed in it
completely. He had faith it would work," says the actor. Hedison agrees
that the cultural shift toward animal rights adds an extra element of
suspense for modern audiences. "We weren't as ahead of the game in the
'50s as we are today," he says. "That didn't elicit any comment at all
back then."
Hedison is looking forward to attending Cronenberg's opera when it debuts in Los Angeles
this September, and in the mean time, he's finishing up a book
commemorating the movie's 50th anniversary. His recollections are
startlingly precise when you consider the last time he watched the
film. "I haven't seen it since 1958!" claims the actor. "I don't like
watching old films of mine. I just don't like looking back." I have a
hunch that come September, both horror and opera fans will be grateful
that Cronenberg doesn't feel the same way.
Read More