Site of the Week – The Bat-Blog
It's official: Batmania has swept the nation, and helping boost our obsession with the Caped Crusader is the fan-site, The Bat-Blog. Oklahoma City's Tommy (who goes by a single name, just like Sting or Madonna) started the site in 2006, and his love of Batman resonates with recent reactions to Nolan's latest film. "I like Batman best because he's human," Tommy says, "He's a superhero who really doesn't have any superpowers, which makes him more believable — he's somebody that you or I could actually become."
The Bat-Blog is, not surprisingly, a place to geek out on all things Batman. The site is updated two or three times a day with postings dedicated to vintage toys, international cereals, eBay collectibles, fan paintings, video parodies, and downloadable wallpapers of classic comic book covers. (Note: Our favorite odd collectible is the 3-level Batman Hamster House, pictured below.)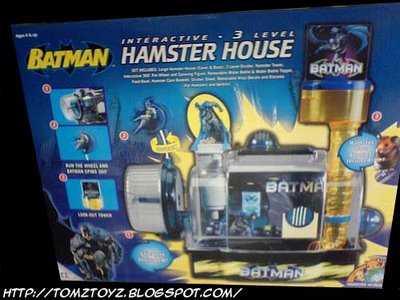 What's remarkable about the Bat-Blog is that despite the presence of countless commercial products (designed to get the disposable incomes of fan-boys everywhere) the site never feels sales-y or huckster-ish. It's a labor of love:Tommy is obsessively compiling the most thorough archive of Bat-merchandise from around the world. His thoroughness has attracted other toy-collectors and comic book fans. Tommy says meeting these kindred spirits is "the most rewarding part of running a website that doesn't make much money.") The Bat-Blog typically get 90,000 visitors a month, though the numbers
are expected to go up with the interest generated from the new movie.
Bruce Wayne has been around for nearly 70 years, which lends the character to a lot of toys and tie-ins. (Though, Tommy notes, "There was practically nothing Batman related in the 1950s, aside from the comics.") The Bat-blog celebrates every era, but Tommy recommends two often overlooked versions. "The 1940s movie serials are a lot of fun if you're in the right mood," he says. "They are extremely low-budget; the Batmobile is a regular coupe and the costumes are very cheesy." For something more modern, "I highly recommend the recent Batman: Gotham Knight which was just released on DVD. The anime-style animation is rendered beautifully and the story sort of bridges the gap between Batman Begins and The Dark Knight."
The site is not the most critical or analytical on the web, and
honestly, that's makes the blog all the more enjoyable. Tommy reminds us that Batman is a rare pop-culture phenomenon that you can
share with your Grandpa or your 6-year-old nephew.
Read More