Singer Nellie McKay Looks Forward to King Kong's Revenge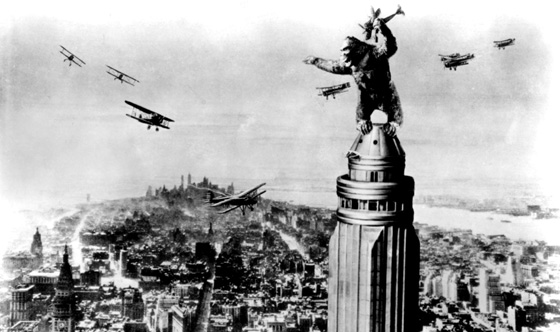 <img src="http://dev.blogs.amctv.com/wp-content/uploads/2008/07/king-kong-1933.jpg" alt="" title="Singer Nellie McKay Looks Forward to King Kong's Revenge" width="560″/>


"When you're an activist, you don't need fictional horror, you see enough real life stuff," says singer Nellie McKay, who has been pushing buttons and boundaries ever since her unconventional album, Get Away From Me, turned critical heads in 2004. McKay gets chills watching documentaries like the Joaquin Phoenix-narrated Earthlings, which chronicles human dependency on animals, or 2006's Manufactured Landscapes, about the wastelands caused by human refuse. "The photographer captures it so objectively," says McKay. "He tries to make these places beautiful — in a way, he turns horror into art. It just lets you make up your own mind, and that's so powerful."
As for entertainment, she favors the old, spooky, and outrageous, like Bette Davis as Baby Jane. "She's not afraid to be ugly," explains McKay. "I love any female actor who's not afraid to be ugly — I mean emotionally — not just physically. That movie shows the horror that happens to us all, the physical aging, the rivalries you hold onto and the bitterness that accumulates." Another favorite: King Kong. "A tragedy,
and an epic. But once again, I don't think the horror is King Kong,
it's what people do to him — the horror of modern technology, those
planes firing at him," she says. "I thought the ' 70s version
is wildly underrated, the actors are so good in it, and Naomi Watts was
so good in the newer one. But if they're going to keep updating King Kong, we should change the ending. Maybe next time he manages to kill all of them!
Nellie McKay's Top Ten Horror Movies
• Carrie
• Rebecca
• Suspicion
• Midnight Lace
• Pandora's Box
• Whatever Happened to Baby Jane?
• Godzilla versus MechaGodzilla
• Paparazzi
• Frankenstein
• King Kong (1933)
Belatedly, McKay discovered one accidental omission from her top ten list:
Kubrick's The Shining,
in which her mother, actress Robin Pappas, played a nurse.
"Maybe I subconsciously left if off my list because her part wasn't big
enough," laughs McKay. "Consider it a payback to the producers!"
Read More