Scott Sigler – Monsters? Singing? The Horror Musical Adaptations on the Horizon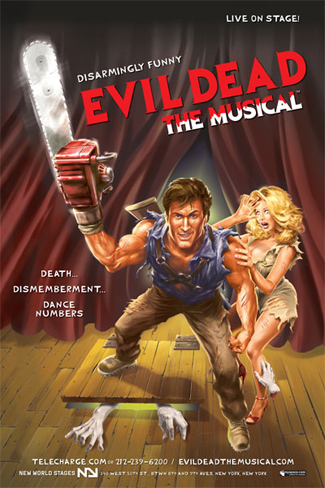 Novelist Scott Sigler's horror column appears every Thursday.
You are a busy person. You have much to do, little time in which to do it — you like music, you like blood and monsters, and you want to combine those two things into one handy form of entertainment. Kind of like an evil version of "You put your chocolate in my peanut butter!"
You've been hoping, praying, perhaps even begging to see your favorite horror movies modified for stage productions, and see killers and victims can randomly break into song and dance. You've been just dying to see adaptations of The Fly , Evil Dead , Toxic Avenger and Creature from the Black Lagoon . I know you're frightened of my mental ability to peer into your inner thoughts, but it's OK — I won't tell anyone what's in the box at the back of the closet.
You want this satanic Reese's Peanut Butter Cup, and therefore, it's time to run down a list of horror musicals.
Evil Dead the Musical
Starts July 16 at the Campbell Theater in Martinez, CA. Runs until September 7 in Toronto.
Based on the Evil Dead franchise, this campy saga of Ash will, indeed, swallow your soul. At least the music will. Egads, there are some stinkers on this soundtrack. Judging from the clips, however, if you're a Gallagher fan and have always dreamed of getting hosed down with fake blood, you will want front-row tickets.

Toxic Avenger Musical
Opens September 30 in New Brunswick, New Jersey
I'm not at all surprised this will be a musical. What's surprising is why did it take so long? I mean come on, a low-budget story about a mutated avenger of evil just screams
"let's randomly burst into song and choreographed dance numbers." Let's
give credit where credit is due, though — do they open Toxic Avenger in LA? New York? All hoity-toity like the Paris opening of The Fly? Hell no — this is Toxie, and he's kicking it off in New Jersey.
"Hey,
I've got 108 toxic waste dumps," New Jersey said. "That's more than any
other state. When it comes to toxicity, you can't hold a candle to me,
pal. Fuggedaboutit."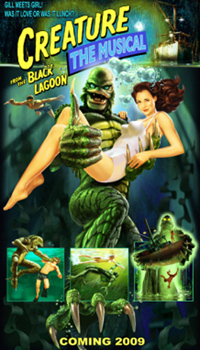 Creature From the Black Lagoon
Spring 2009, Universal Studios Hollywood
Got this from a story from the LA Times.
This one is supposed to be a romantic comedy with dazzling stage shows.
Yes, that's what I said, "a romantic comedy with dazzling stage shows."
Any attempt at making fun of that phrase will sadly fall short of said
phrase's innate idiocy, so I won't even bother.
Rocky Horror Picture Show
Saturdays at midnight in Oakland, CA
This
one, of course, is the miggity-miggity mac daddy of all horror
musicals. You can still see this bad boy live in many places in the
country. The best by far, in my opinion, is the Barely Legal troupe that puts on this venerated show every Saturday at midnight in the Parkway Cinema in Oakland, CA. And if you're very, very lucky, you get to be there when Mariana plays Trixie. Here's
something I didn't know but probably should have — The Rocky Horror
Picture show first started out as a stage play in 1973, and became a
movie in 1975.
Apparently, Evil Dead and the Toxic Avenger are sullying this hallowed form of bad songwriting, making it so low brow that true auteurs wouldn't dare to label their blood-music affairs as "musicals." That's right, if you are a true artiste, yet you desire to sing about death and other bad stuff, you make an opera. My goodness, I can feel my cultural IQ skyrocketing even as I type the word.
The Fly
U.S. opening September 7 at the LA Opera
You want surreal? Click on the link to The Fly: The Opera
and listen to David Cronenberg talk about this project. "The Fly opera
project started with a production of the film we shot in 1986,"
Cronenberg says in the online video. "And I thought then this was a
wonderful opera subject."
Human-fly hybrids dissolving hands and legs with vomited acid? Teleporters? Man, if someone told me that was prime operatic material, I would have signed up to see La Bohème a loooong time ago. Do check out the site, though, and here's a warning — do not be drinking milk when you watch the brundlefly actor do wire-work from the stage rigging.
And check out this little blurb from the bottom of the website: New
production made possible by a major grant from the Andrew W. Mellon
Foundation, with additional support from the James Irvine Foundation
and the National Endowment for the Arts. The National Endowment for the Arts. Funding a musical about The Fly.
If you need me, I'm going ice skating at Satan's place. I'll be the
first to admit that I don't know a damn thing about opera, but what I
do know is how to spot a train wreck, and The Fly screams choo-choo-choo all the way home.
Repo: The Genetic Opera
Opens in movie theaters November 7
First of all, an entire opera that's a rip-off of a Monty Python skit?
Well, why the heck not. Call me a cultural turncoat, but this movie
looks freakin' awesome. Scifi, horror, and — dare I dream — music
that doesn't flat-out suck (not all of it, anyway, but some will
because this is a musical after all). This puppy ran in LA and
in New York, and now it's hopped up on a big-time effects budget and
hitting the silver screen. I might actually like this … but please
don't tell anyone or my reputation is trashed.
"Your blood is on my opera glasses!" or, "Your opera glasses are in my blood!"
So
there you go, a quick summary of the unholy entertainment combination
that dares not speak its name. You may not be able to jet off to
Toronto, LA, New Brunswick and the rest, but at least you can get to the movie theater for Repo. Sure, you're busy, but now you can
get your culturin' on and go to work telling people you saw an opera
over the weekend. Just don't bother to explain the bloodstains — that
makes it more fun.

Scott Sigler writes tales of hard-science horror, then gives them away as free audiobooks at www.scottsigler.com. His hardcover debut Infected is available in stores now. If
you don't agree with what Scott says in this blog, please email him
scott@scottsigler.com. Please include all relevant personal
information, such as your address and what times you are not home, in
case Scott wishes to send someone to "discuss" your opinions.
Little Shop of Horrors, Sweeney Todd, Young Frankenstein and more? Yes, there are, sadly, many horror musicals floating about the ether. Which ones are you going to see?
Read More