Now You Can Pedal for Power — Just Like They Do in Soylent Green!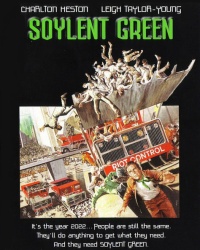 When it comes to Soylent Green , it's hard to get past the whole "Soylent Green is people" part of the film. But, given the current search for renewable energy sources, forget what the movie says we'll be eating in 2022 (each other) and take a look at what Charlton Heston uses for power: Kinetic energy.
Detective Robert Thorn (Heston) and his "book" Sol power their dilapidated dwelling by riding a bike. The energy they expend while pushing the pedals is converted into electricity which then charges up their batteries. It's affordable, available and, as a bonus for the audience, it keeps Thorn looking fit and trim.
Could America use this science now to lower utility costs and those high obesity rates? According to ReRev LLC, a renewable energy company, the answer is yes. Their website states:
We are retrofitting gym equipment to make carbon neutral
energy in a safe, fun, and healthy manner. We efficiently and cost
effectively capture the kinetic motion of aerobic exercise which is
converted into clean energy that feeds back into the local utility's
power grid. This is just the beginning of the revolution…
Hudson
Harr, the company's founder and CEO, wants people to know they're
serious about harnessing this power. "We're in commercialization. Our
suppliers are ready to order and we can put this technology in as many
locations as possible," he told Popular Science. "We're ready to rock here."
The reason they're ready, explains Harr, is that they don't use
batteries. Their ReCardio design pumps electricity directly back to the
utility grid, a more efficient system. (You lose 50% of the energy you
create when you pass it through a battery.) In addition, batteries cost
more, require maintenance and space, and have a greater safety risk
than his design.
The Gainesville Health & Fitness Center is testing Harr's technology on 15 elliptical machines
and so far they've produced over 200 kwhrs. Each elliptical machine has
the ability to produce 1 kilowatt of electricity every 10 hours, which
is enough to charge the battery for a 2004 Toyota Prius once or a cell
phone up to 397 times. Earlier this month, Progress Energy, a Florida
utility company, agreed to split the bill with the University of
Florida for installations on 40 machines, with the potential for more.
Get
your gym hooked up to the grid and start pedaling before it's too late!
On the other hand, all that exercise will make you hungry and there is
that food supply problem….
Read More