Now and Then – Step Brothers and Talladega Nights: The Ballad of Ricky Bobby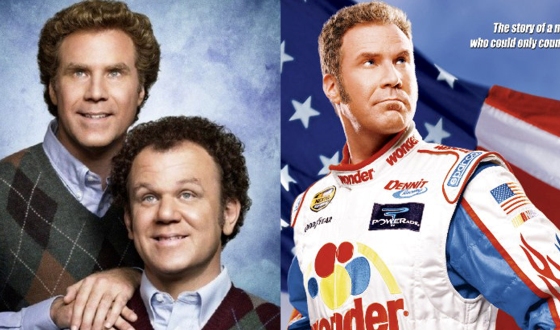 Step Brothers and Talladega Nights: The Ballad of Ricky Bobby" width="560″/>

| | |
| --- | --- |
| Now: Step Brothers (2008) | Then: Talladega Nights (2006) |
| | |
| --- | --- |
| Sibling Rivalry | Speedway Lunacy |
Step Brothers reunites director Adam McKay with stars Will Ferrell and John C. Reilly in a creative follow-up to 2006's Talladega Nights: The Ballad of Ricky Bobby . But, Peaches and Herb aside, there are occasions when reuniting doesn't, in fact, feel so good. Which McKay-Ferrell-Reilly film works as a comedy and which one never gets into gear? And what makes a dumb comedy a great dumb comedy?
1. In the Arena
Step Brothers pits Ferrell's Brennan against Reilly's Dale as
his mother (Mary Steenburgen) and his father (Richard Jenkins) meet,
marry and move in; the two 'boys" immediately dislike each other in
spite of — or perhaps because — their shared state of jobless
slackerdom. In Talladega Nights, Ferrell and Reilly play Ricky Bobby and Cal Naughton Jr., fellow NASCAR racers. Step Brothers never gives us any sense of what Brendan and Dale want, while Talladega Nights sets up how both Ricky and Cal want to race and win. Although Talladega Nights
may not be the model of gritty realism — more about that later —
watching characters who want something is more satisfying than watching
characters who just want to be left alone.
2. Real and Surreal
Step Brothers strains at our sense
of belief from the get-go; we're constantly asking questions when we
should be watching the film. Why haven't the "kids" been forced out of
the house before now? Why exactly can't they manage to make it in the
world? But Brennan and Dale are so wacky — and so weird — that they
just don't work in the real world, and we can't get a sense of them as
anything but Will Ferrell and John C. Reilly. Talladega Nights
takes place in a very weird version of a very specific universe — the
high-stakes, high-speed world of NASCAR racing — and the speed, the
color, the blur and bizarreness of the film's surreal riff on racetrack
culture mean that when Ricky and Cal do crazy things, they're fitting
into the world we're seeing them in, not straining against it.
3. A Worthy Adversary
Step Brothers gives Brennan and
Dale a common enemy in Derek (Adam Scott), Brennan's real-estate agent
younger brother who wants to sell the family home — which mean Brennan
and Dale will be out on their own. Scott's Derek is a self-centered
go-getter, but he's not up to facing down Ferrell and Reilly's
on-screen presence. In Talladega Nights, Ricky and Cal's
nemesis is French racecar driver, Jean Girard, played by Sascha Baron
Cohen. Girard isn't simply played by a better comedic actor; he's also
better-written than Derek, with more screen time, better lines and a
more fully flushed-out character. This echoes what I've said previously about The Dark Knight and Heat, but it's a simple fact of storytelling; high-quality bad guys make for more engaging heroes.
4. Stars and Support
Step Brothers doesn't have a lot of supporting parts — most of the film is taken up by Ferrell and Reilly. In Talladega Nights, Ferrell and Reilly are joined on-screen by a host of great comedic actors — Cohen ( Borat ), Leslie Bibb, ( Knocked Up ), Gary Cole ( Office Space ), Michael Clarke Duncan ( The Green Mile ), Amy Adams ( Enchanted ), Jane Lynch (Best in Show), Andy Richter (Late Night with Conan O'Brien), Jack McBrayer (30 Rock)
and many more — which lends actual support to the lead performances
and gives the top actors something to bounce off of instead of making
them shoulder the burden of the whole movie.
The Verdict
Step Brothers feels formulaic when contrasted against Talladega Nights — it may give Ferrell and Reilly free reign, but it doesn't give them anything to do with it. So while it's Talladega Nights that's set on the tracks of America's speedways, it's Step Brothers that winds up going nowhere fast.
Read More